Movie Trailer: Lance Daly's Kisses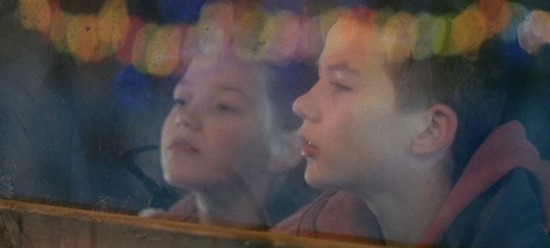 One of the films I really dugg at the 2008 Telluride Film Festival was this Irish film titled Kisses by Lance Daly.
In my review, I described the film as "Lost in Translation but with two irish 10-year-olds." The story follows two kids who run away from home and spend a "night of magic and terror on the streets of inner-city Dublin." The film is sprinkled with realistic improvisational moments and Daly cleverly plays with the saturation and desaturation of color from the frame to visually convey the children's emotions. If you haven't figured it out, it might be too indie for some, but I really dug it.
The trailer is now online, and you can watch it now after the jump. Please leave your thoughts in the comments below. It should be noted that while the kids speak English, it is often times hard to understand what they say due to their accent (in the trailer their words are even subtitled).
Official Plot Synopsis:
From director Lance Daly (Last Days in Dublin, The Halo Effect) comes the story of two young runaways living in the fringes of Dublin who discover both beauty and danger in the big city. Kylie lives with 5 siblings and an overworked mother. Next door, Dylan is growing up with an abusive father and the memory of his runaway brother. One day, after a violent altercation with his father, Dylan and Kylie flee. Together they make their way to the magical lights of downtown Dublin to search for Dylan's brother and the hope of a new life. Dublin, as shown through the innocent eyes of our young protagonists, is a kaleidoscope of magic, wonder and mystery. But as the night wears on, Dublin takes on a darker character and the two children learn that they have to rely on the kindness of strangers and the sagely wisdom of Bob Dylan to persevere. Featuring two incredible breakthrough performances by Shane Curry and Kelly O'Neill, Kisses is a tale of two children who test the limits of what life can become and in the process learn what they can do for each other.
Watch the trailer in High Definition on Apple. Kisses will be released in limited theaters on July 16th 2010.