Carter Burwell Talks About His Approach To Scoring 'True Grit'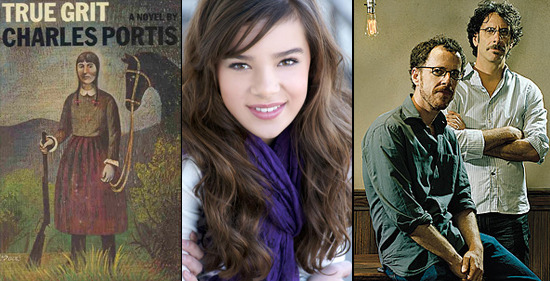 Joel and Ethan Coen are in New Mexico right now filming True Grit, their take on the Charles Portis novel that inspired the 1969 film of the same name. We know that this version will hew closer to the source novel than the original film did, and given the fact that the Coen Brothers are behind it, we can make certain guesses about the general tone of the film.Carter Burwell will once again be writing the score for the Coens, and he has recently talked in brief detail about their ideas for the score.The Film Experience (via In Contention) nabbed quotes from Burwell about working on True Grit when he attended the 2010 Nashville Film Festival. The site reports,
We don't always see eye to eye." Burwell noted when discussing his 14th collaboration with Joel and Ethan Coen. But when it came to the conception of the True Grit score "We both had the same idea at the same time: Protestant hymns."
The idea is that Mattie Ross, the young girl who drives the story, is "so convinced of her righteousness," that Protestant hymns are ideal to represent that. (She's played by Hailee Steinfeld, pictured above.) Trouble is now for Burwell, that all the recorded hymns he's found sound "too sweet."
At this point, Burwell says he's in prep and research mode for the film, so this concept may not end up in the final picture.
Burwell also says he feels no pressure to conform to any general style of Western movie scores, which is something I'm very happy to hear. The scores of Sergio Leone, Max Steiner and others has set a precedent that many are all too happy to follow. But scores that sound like Leone now just remind me of other movies, rather than evoking a place and time or atmosphere. Using hymns to represent Mattie actually goes back to the character, rather than trying to conjure up images of Westerns in general.
Burwell also evidently described ideas for a call and response structure to the main theme, which would reflect Mattie originally soldiering off alone to find her father's killer, and gradually gathering others who join her. While that idea, ironically, also shows up in many Leone scores, I expect to hear something rather unique come out of these ideas.