Garrett Hedlund Cast In Adaptation Of Kerouac's 'On The Road,' Directed By Walter Salles?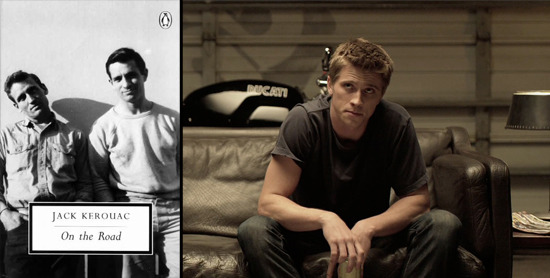 Production Weekly had a lot of late-breaking casting info at the end of this past week. Among the brief missives was a note that Tron Legacy star Garret Hedlund is in talks to play Dean Moriarty in an adaptation of Jack Kerouac's novel On the Road, to be directed by Walter Salles.
A film version of Kerouac's novel has been in the works for years, after Francis Ford Coppola optioned it in the late '70s. It has since passed through the hands of a few directors. It landed in the lap of The Motorcycle Diaries director Salles back in 2005. At the time, he was set to continue his collaboration with screenwriter Jose Rivera. We don't know if that remains the case (the duo has also recently been attached to an adaptation of American Rust), nor do we know what has finally kickstarted the film back into life.
PW reports filming is set to start this summer, but we've heard before that this particular project was about to roll. With word that Hedlund is in talks for a role, this is the most forward momentum we've heard of on the project in years. I'm not sure that's a good thing, as On the Road has always seemed like one of those books that might be better off left alone.
A 2008 interview reveals hints of the ideas driving Salles as he works to adapt the book, however. One might be 'modernization.'
I am not really interested in doing a period piece that wouldn't have a correlation with what we are living right now. There is a strange modernity to the theme, and maybe "On the Road" is more contemporary today than it ever was.
I don't expect that Salles is going to change the time period, but he sounds as if he's going to skew the story in some way to make it relevant today. That might be interesting. Salles also recreated the journey undertaken in the novel, even making a documentary called In Search of On the Road, a portion of which will show soon at the San Francisco International Film Festival. [via the comments at The Playlist]
Now let's see who is cast as Carlo Marx, the character analog of Allen Ginsberg. Reportedly Control star Sam Riley is cast as Sal Paradise, the analog for author Kerouac. That news is a year or so old, however, and I don't currently have any evidence to support that he remains in the cast.