RED Movie Logo Revealed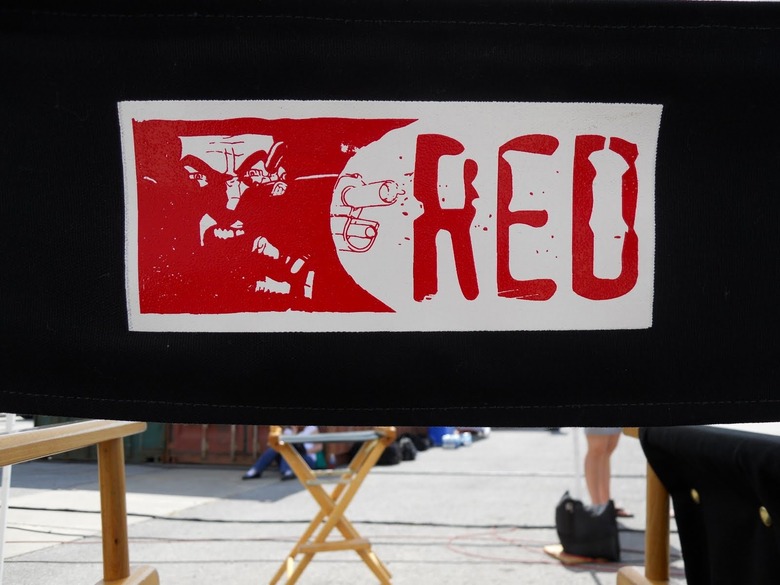 Comic co-creator Cully Hamner has posted the on-set logo for the big screen adaptation of the DC Comics/Warren Ellis graphic novel Red on his blog. Of course, the temp logo, which appears on the chairs on the New Orleans set, looks almost exactly like it does on the comic book covers. Check out a close-up, after the jump.

Here is the logo from the comic covers:
Cully also added a bit of commentary about his second day on set:
Man, today was a long day, but I was introduced to John Malkovich, Mary Louise Parker, and Karl Urban; got to casually chat here and there with Bruce Willis, producer Lorenzo di Bonaventura, and director Robert Schwentke, all very pleasant guys, along with tons of really nice folks with the production; had a long conversation with Willis' stunt double, Stuart, who's a fascinating guy; sat for interviews w/ foreign press and DVD people; and just generally made note of the fact that feature film crews work really, really hard.
Official info on the project:
The movie stars Bruce Willis, Mary-Louise Parker and Academy Award®-winners Helen Mirren and Morgan Freeman, John Malkovich, Karl Urban, Brian Cox, Richard Dreyfuss and Ernest Borgnine, Julian McMahon, James Remar and Rebecca Pidgeon.
"Red" is the story of Frank Moses (Willis), a former black-ops CIA agent, who is now living a quiet life. That is, until the day a hi-tech assassin shows up intent on killing him. With his identity compromised and the life of the woman he cares for, Sarah (Parker), endangered, Frank reassembles his old team (Freeman, Malkovich and Mirren) in a last ditch effort to survive.
Directed by Robert Schwentke ("The Time Traveler's Wife," "Flightplan") from a screenplay by Jon Hoeber and Erich Hoeber ("Whiteout"), the film is produced by di Bonaventura Pictures' Lorenzo di Bonaventura and Mark Vahradian ("Salt," "Transformers," "Transformers: Revenge of the Fallen"). Executive producers are Jake Myers ("Shanghai," "Hollywoodland") and Gregory Noveck ("Jonah Hex"). Di Bonaventura Pictures' production executive David Ready serves as co-producer.
via: CBM