San Diego Convention Center Plans $753 Million Expansion In Bid To Keep Comic-Con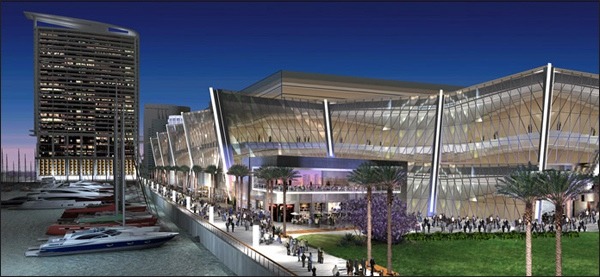 I love visiting WonderCon every year because it's like Comic-Con, but not as packed and uncomfortable. You can easily get a seat in the main hall and you can actually walk the show floor without being in the middle of a big pack of sweaty geeks. Some people over the weekend told me that this is exactly how San Diego Comic-Con International felt 10 years ago. And as we all know, Comic Con has ballooned into an uncontrollable mess (and I say that in the nicest way possible). Comic-Con sells out far in advance, hotels close to the convention center are almost impossible to find, and don't expect to get into Hall H unless you get up at 7am in the morning and camp out all day in a seat.
In 2012, San Diego's contract with Comic-Con comes to a close. Everyone wants to know if Comic-Con will leave San Diego. And if the convention goes elsewhere, where could that be? Las Vegas, Anaheim and Los Angeles are all bidding for the right to become the future home of the geek meca. But will Comic-Con leave the place where it all started?
A land deal could be under way that might keep Comic-Con in San Diego.
The plan is for a $753 million expansion of the San Diego convention center which would provide an additional 200,000 square feet of exhibit space, a third ballroom, 100,000 square feet of meeting rooms, and a new 500 room hotel directly behind the convention center. This would give the center a total of 815,000 square feet of exhibition space, about the same as Anaheim's convention center.
According to The San Diego Union-Tribune:
If approved, the deal would essentially start what center officials say is an 18- to 24-month process in which they'll seek public comment and opinion, study the expansion's effect on the environment, design the building and, most important, figure out how to pay for it.
Officials say the larger center could possibly open in 2015. The San Diego Convention Center Corp. is seeking to extend the agreement an additional three years. They are also securing commitments from three waterfront hotels to provide 300,000 square feet of meeting space for the con from 2013 to 2015. There's also an effort by the city of San Diego to increase the number of convention hotel rooms from 7,000 to 14,000, which would definitely give the city an advantage over the competing cities.