Cool Stuff: Dutch Southern's True Romance T-Shirt "You're So Cool"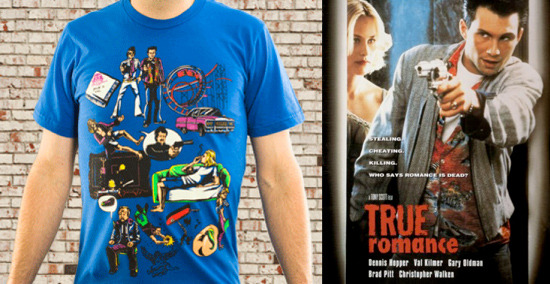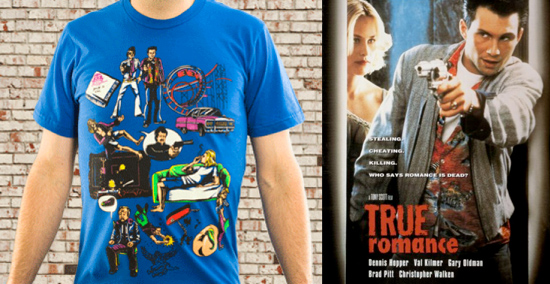 Our friends at Dutch Southern have released a new t-shirt tribute to the Quentin Tarantino-written Tony Scott-directed film True Romance. It's called "You're So Cool" and was designed by Joshua Kemble. The design is printed on a royal blue American Apparel tee using 7 inks. Check out the full t-shirt design, complete with legend, after the jump.
Included with the shirt (from left to right):
A message from Alabama on a hotel napkin.
The King mentoring Clarence.
The Viper roller coaster where Elliot Blitzer gets sick.
Clarence's '74 Cadillac Fleetwood Eldorado.
A dead Drexl referencing Charlie Bronson, Clarence's ID left in his hand.
Alabama and the birthday boy watching a Street Fighter triple feature.
Floyd smoking the second page of Dick Ritchie's letter.
Clarence's dad referencing an eggplant.
Sgt. Fury diving into the ocean to rescue his sweetheart's ring.
Clarence and Alabama's wedding day tattoo.
The corkscrew that saved Alabama's life.
A bruised Alabama tasting like a peach.
Cool Stuff is a daily feature of slashfilm.com. Know of any geekarific creations or cool products which should be featured on Cool Stuff? E-Mail us at orfilms@gmail.com.