Weekend Weirdness Bookshelf: Dennis Hopper & The New Hollywood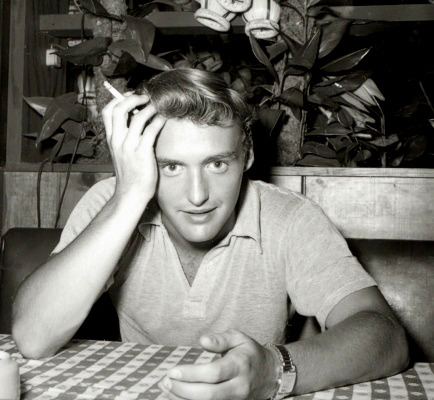 We may receive a commission on purchases made from links.
It's a crazy, mixed up world and we are thankful for movies that offer proof. Slashfilm's Weekend Weirdness examines such flicks, whether in the form of a premiere for a provocative indie, a mini review, or a look at a book on a filmmaker's life.
Any self-respecting male should take a few moments each year to look to the life of Dennis Hopper for inspiration, and this doesn't include watching the Hollywood renaissance man hold down his crazy button in The Texas Chainsaw Massacre 2 or laughing in a haze at his hunt for candy in Thailand between ping pong bouts on Fishing with John. There are numerous reference books and movie history tomes available to familiarize and refresh on the actor and filmmaker's invaluable contributions to film and counter culture. The latest is a coffee table book published by Rizzoli entitled Dennis Hopper & The New Hollywood that spans his acting career and allots a fair portion to his well-recognized black and white photography and personal art collection.
The timing of the release is ideal, seeing how last month Hopper was awarded a star on the Hollywood Walk of Fame, and in July his art work will be exhibited at the MoCA, marking the highly anticipated debut of new museum head Jeffrey Deitch. After the jump, I've included a few excerpts and cool page shots.
As one might expect, the influence of Easy Rider warrants quite a few pages, in addition to the book's cover (above), but the coverage is not overdone. In the quote below, Hopper discusses the metaphors of the bleak ending to the road trip classic and the motorcycles themselves, followed by another quote on the calculated preparation and casting of nonprofessionals for the memorable diner scene in his heralded masterpiece (as a longhaired star, writer, and director)...
"The other thing was to put all the money in the gas tank and the big beautiful chrome machine is like so much of the reality that's happening right now, it's beyond being a prophecy. It all ends up in the gas tank and the big chrome machine burnt by the side of the road. It's hopefully not the ending but it is certainly the ending of the movie. Bob Dylan tried to talk me out of it and into changing it when he saw it. He said, 'Couldn't those guys in the truck...couldn't [Peter] Fonda have a machine gun or something?' But that's not the point. The point is that the movie to me was about freedom and responsibility that you have of being free."
"When I arrived at the location, I saw this group of guys with a sheriff. And I said, "I want these people. See this group over there? Those are the guys I want" [The casting guy] resisted, but I insisted and so he approached them and they were more than willing to be involved in the movie. I placed these guys in the restaurant booths, next to the girls that I'd found there. I told the guys that [our characters] had raped and killed an eleven-year-old girl outside of town. There was nothing that they could say that would be too bad about us. So I brought out their natural instincts, and they went into their bigotry."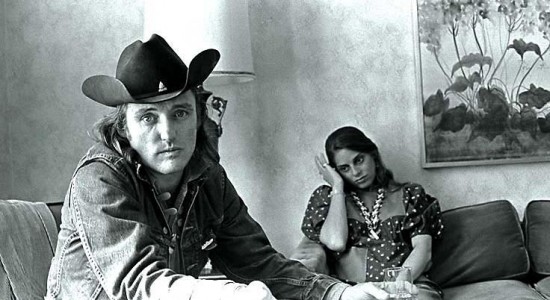 Various pages contain news clippings and magazine profiles of the actor, and the excerpt below is from a 1970 cover story in LIFE detailing the fallout over Hopper's comments to the press in Peru in favor of homosexuality and the legalization of marijuana during his time there filming The Last Movie (the storied follow-up to Easy Rider that would irreparably damage his standing in Hollywood for years). It's quite the scary and absurd realization when noting how these same topics remain so controversial—even in America—more than three decades later.
Peru has painfully learned to live with earthquakes, avalanches, tidal waves, jaguars and poisonous snakes. But Dennis Hopper was something else. When the director of Easy Rider arrived in Lima several months ago, a reporter from La Prensa asked his opinion of marijuana (illegal in Peru) and "homosexualism." Taking a long reflective pull on an odd-looking cigarette, Dennis said he thought everybody should "do his thing" and then allowed that he himself had lived with a lesbian and found it "groovy." No remotely comparable statement had ever appeared in a Peruvian newspaper. The clergy screamed, the ruling junta's colonels howled. Within 24 hours the government denounced the article and issued a decree repealing freedom of the press.
Dennis Hopper was undisturbed. Furor trails him like a pet anaconda. At 34, he is known in Hollywood as a sullen renegade who talks revolution, settles arguments with karate, goes to bed with groups, and has taken trips on everything you can swallow or shoot.
A man who made sure to be in the right place at the right time, the book contains Hopper's photographs of historical figures and Hollywood icons, including these: Bill Cosby in 1962, Martin Luther King, Jr. in 1965, and Paul Newman in 1964 on the set of Cool Hand Luke (in which Hopper costarred); the photo of Hopper and Terry Southern in front of The Chelsea Hotel in 1964 is by Fred W. McDarrah.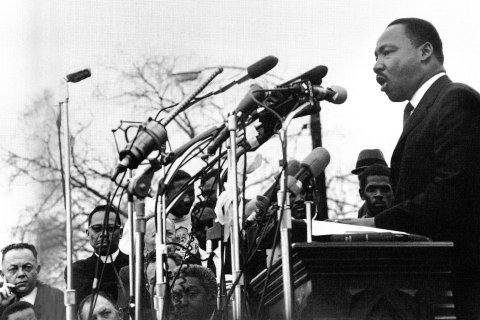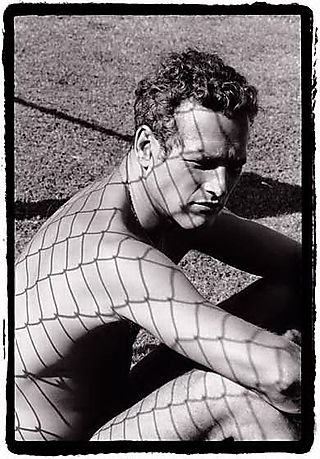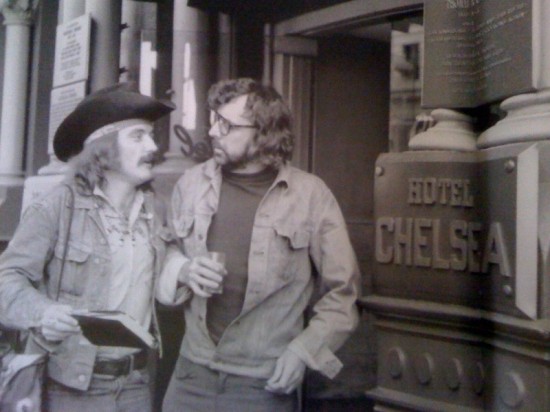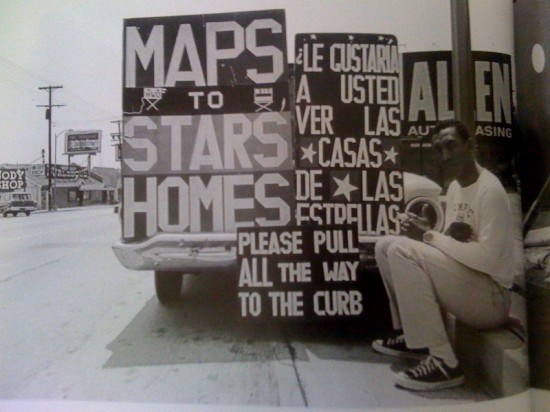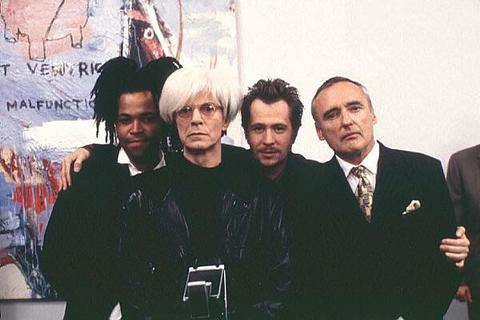 A shot of Hopper as international art dealer Bruno Bischofberger in 1996's Basquiat (above); below is a page-shot from the book of an untitled work by Jean-Michael Basquiat owned by Hopper, an avid art collector.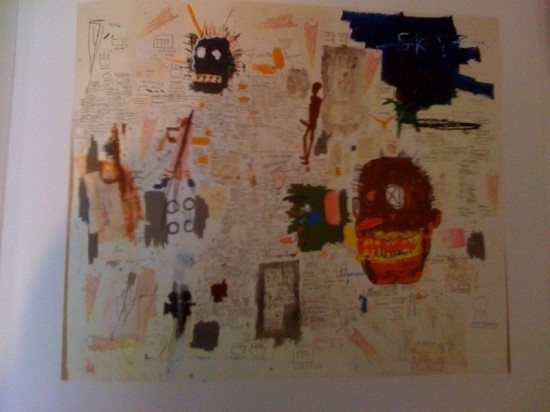 Another work owned by Hopper, "White Girl TV Dinner" (1964) by Michael Ray Charles...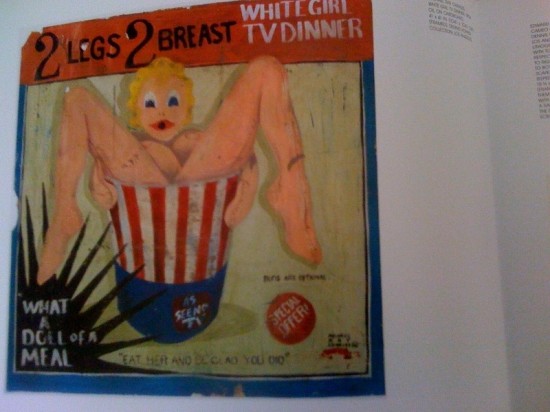 One of the better spreads in the book is a 2006 portrait of Quentin Tarantino by Hopper next to a photo from the Warner Bros. Archives of Hopper in character for the television series Surfside...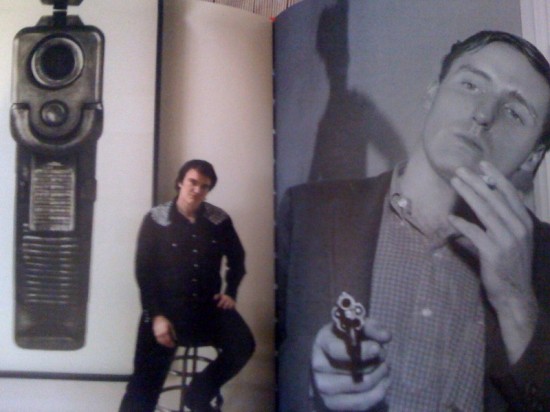 Art and campy film stills collide across a couple of pages...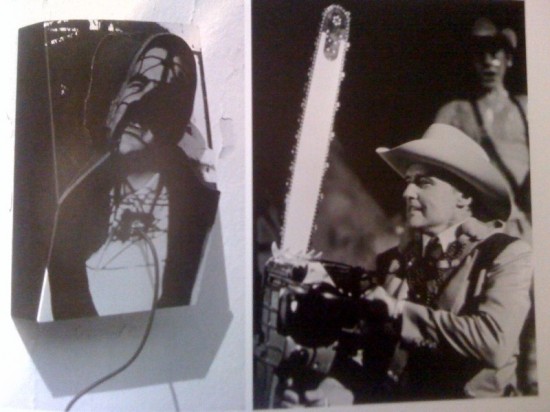 For previous installments of Weekend Weirdness, here.For more info on Dennis Hopper & The New Hollywood, here.Hunter Stephenson can be followed on Twitter. To send him a screener or an NYC screening invitation: h.attila/gmail.