Resident Evil: Afterlife Teaser Trailer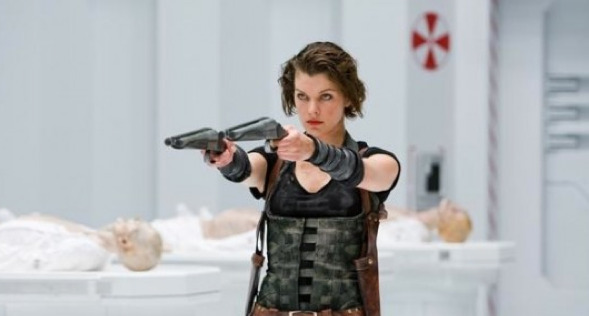 Last night, Wonder Con got a chance to see the world premiere of the Resident Evil: Afterlife teaser trailer. Today, that trailer has hit the internet. View it after the break, and feel free to share your thoughts in the comments below.
The trailer has several big surprises. Well, actually, one big surprise that it keeps hurling at you over and over again. "FILMED WITH THE JAMES CAMERON/VINCENT PACE FUSION CAMERA SYSTEM," the text announces, which is apparently "THE WORLD'S MOST ADVANCED 3D TECHNOLOGY." Then, stuff begins flying towards YOUR FACE with reckless abandon. Throwing stars! Sunglasses! Airplanes! Zombies! Milla Jovovich! Debris! Swords! Nothing is too ridiculous or trivial to show you the power of this new dimension!
If gimmicky 3D is wrong, I don't want to be right. Except this time.
The trailer ends with a shot that's a blatant rip off/homage to the one from The Matrix Reloaded of Trinity falling out the window...except this one takes it up to the next level, with TWO people falling out of a window while shooting, and then they appear to be base jumping? Or something?
Oh yeah, there's also some kind of plot associated with the film. Here's the official synopsis:
In a world ravaged by a virus infection, turning its victims into the Undead, Alice continues on her journey to find survivors and lead them to safety. Her deadly battle with the Umbrella Corporation reaches new heights, but Alice gets some unexpected help from an old friend. A new lead that promises a safe haven from the Undead leads them to Los Angeles, but when they arrive the city is overrun by thousands of Undead and Alice and her comrades are about to step into a deadly trap.