Ben Stiller And Noah Baumbach Reteaming For Mr. Popper's Penguins?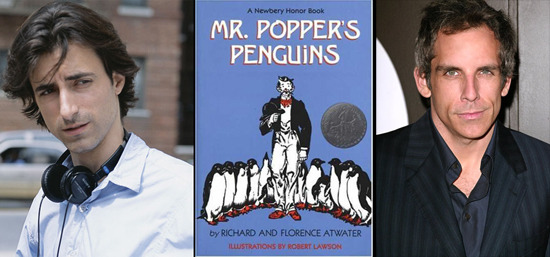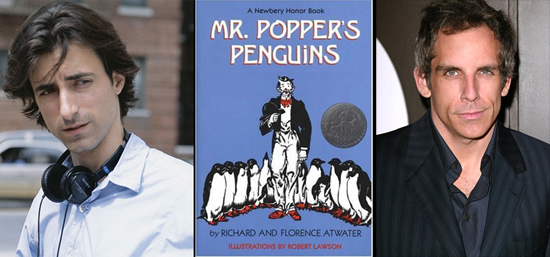 Noah Baumbach and Ben Stiller are doing pretty well together thanks to the current film Greenberg, and now the pair may end up working together once more. This follow-up won't quite be in the same vein of their current film, however, in which Stiller could be charitably called an unlikable guy.
The new film would be based on a children's book: Mr. Popper's Penguins, by Richard and Florence Atwater. It's not a huge stretch for Baumbach, who co-wrote Fantastic Mr. Fox, but in the wake of Greenberg, it might look like a real left turn.
Variety has the details, saying that though there is no deal in place, Baumbach and Stiller are both in talks with Fox to work on the film. In 2009 the studio hired Sean Anders and John Morris to write a screenplay based on the book. I'd expect Baumbach to do a pass on the script if he does take the job. In any case, there's still The Emperor's Children, a script that Baumbach wrote a while back and is now in line to direct. That sounds like his real next project; this would likely go after.
Here's Amazon's description of the book. Sounds like it would be potentially a lot of fun. There's no indication of what format the adaptation would take: live-action, animation, etc. A live-action/ CGI hybrid seems likely, and even that would be a new step for Baumbach, who has kept his feet close to the ground on his own directorial efforts.
Poor Mr. Popper isn't exactly unhappy; he just wishes he had seen something of the world before meeting Mrs. Popper and settling down. Most of all, he wishes he had seen the Poles, and spends his spare time between house-painting jobs reading all about polar explorations. Admiral Drake, in response to Mr. Popper's fan letter, sends him a penguin; life at 432 Proudfoot Avenue is never the same again. From one penguin living in the icebox, the Popper family grows to include 12 penguins, all of whom must be fed. Thus is born "Popper's Performing Penguins, First Time on Any Stage, Direct from the South Pole." Their adventures while on tour are hilarious, with numerous slapstick moments as the penguins disrupt other acts and invade hotels.