VOTD: Short Films By Todd Strauss-Schulson [NSFW]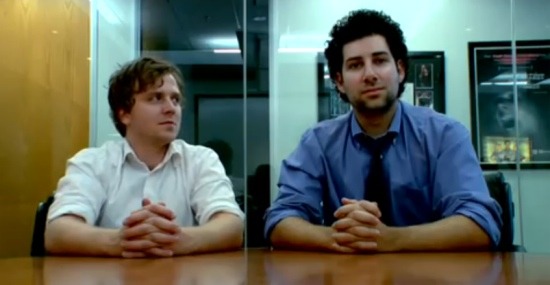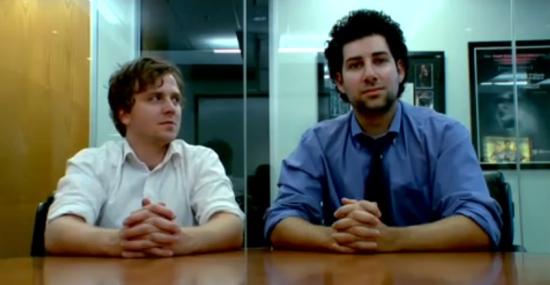 Elsewhere on /Film, you can read about how virtual unknown Todd Strauss-Schulson has been hired to direct the third installment of the Harold & Kumar series, A Very Harold & Kumar Christmas.
The television and commercial film director caught the attention of Hollywood with his short film titled Mano-a-Mano, which premiered at the 2008 South By Southwest Film Festival, has appeared in over 45 film festivals and even won the Best Short Film Jury Award at the Connecticut Gay & Lesbian Film Festival. The NSFW short tells the story of "two guys competing for the same job, a position as a gay phone sex operator." The short stars Laura Silverman (yes, Sarah's sister), Gareth Reynolds, and Evan Mann. Fans of Kevin Smith's earlier films will probably really like this movie, as it is very much written in that same tone.
I also included some of Schulson's other shorts, including:
Die Hardly Working, which is described as a live action Looney Tunes cartoon starring the College Humor gang.
Big Pussy: "A neurotic nice-guy struggles to find the confidence to tell the girl he loves that her vagina has an odor."
Dragon Slayerz: "When Cougar Hunting gets old, it's time to go Dragon Slaying."
Watch all of the shorts film now, embedded after the jump.
Mano-a-Mano was reportedly shot for less than $500 in just four hours with a crew of only two people. Most of the budget went into renting a "nodal" camera head which was required to create the dynamic rotating opening shot effect. According to IMDB, the "nodal" camera head "allows the camera to be rolled on an axis while the center of the lens remains constant."
Die Hardly Working (not to be confused with the 2007 short film of the same title which Zach Lipovsky created for the Dreamworks reality series On The Lot):
You can watch the making of Die Hardly Working here:
Schulson's Big Pussy premeired at the 2009 SXSW Film Festival:
Dragon Slayerz premiered at the 2010 LA Comedy Shorts Festival: