Uma Thurman's Motherhood Opens To $131 In The UK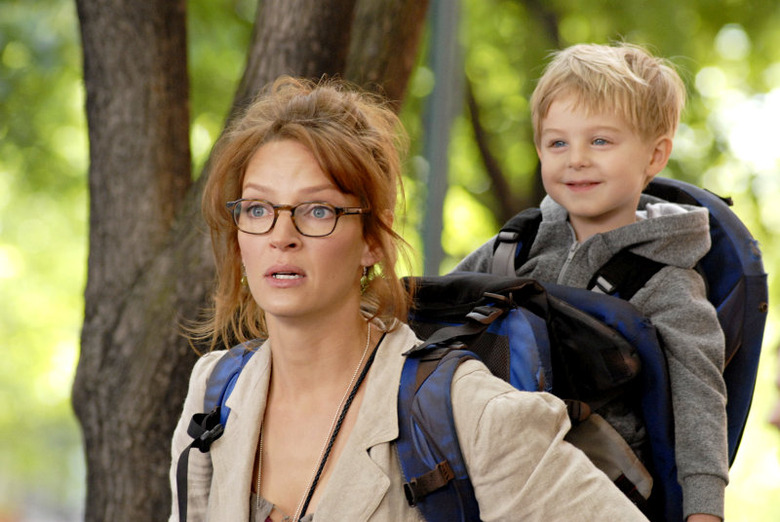 Motherhood, the 2009 film written by Katherine Dieckmann and starring Uma Thurman, recently opened in the U.K. in one theater. Theoretically, the exclusivity was supposed to drive buzz for the film, which has Thurman playing a harried New Yorker juggling the CRAZY responsibilities of motherhood, marriage, and work during the course of one day. Unfortunately, the plan backfired in the most horrible way imaginable: the movie only took in £88 pounds during its opening weekend, which is roughly $131. On its debut Sunday, it made £9, meaning only one person bought a ticket.
[Update: Commenter Tercotta points out correctly that this news item was first mentioned in /Film UK a couple weeks back. The article below, however, contains more context and quotes about the situation.]
Motherhood actually played in U.S. theaters for a bit, before going international, taking in $93,388 in its domestic run. With the budget estimated at around $5 million, that's still not a great performance.
Still, it doesn't compare with the U.K. numbers. According to The Guardian, a company called Metrodome was responsible for marketing the film in the UK. About one dozen people saw the film in its opening weekend; the movie vanished from the theater shortly afterwards. However, the film did barely miss the world record for "Britain's biggest flop," a distinction which goes to My Nikifor which made £7 on its opening weekend. That film, however, was a small independent movie, as opposed to a larger production with a big name actress.
Understandably, the film's producers are none too happy with Metrodome. Producer Jane Edelabum fumed, "Think how much crap succeeds at the cinema. Motherhood is not bad. It's a very decent movies. I've seen movies that are not half as good." For its part, Metrodome defended its handling of the film, explaining that its decision to do a day-and-date release across several platforms may not have worked very well in this case:
Over the course of the week leading up to Mother's Day we also released the film on DVD, video on demand, and pay per view so customers could choose how to watch the film. Inevitably some films will work better on some platforms than others. In this particular case the DVD was stronger than the theatrical result...It is important that experimentation is encouraged at a time when the entire film industry is in transition. We all need to adapt to new models of distribution in the future and discover new opportunities.
Film critic Barry Norman weighed in on the catastrophe, saying:
Good God. I have never heard of anything like this before. This is not some small, independent movie. It's astonishing that only about 11 people could be bothered to go and see Uma Thurman. The reviews were very poor indeed but that alone isn't enough to explain this. It's a reasonable assumption that there was a marketing and advertising catastrophe, and people didn't know it was showing. But it should have attracted more than 11 people in passing trade alone. Apollo cinemas, after all, aren't in tucked-away places. They're all prominently located. I'm baffled.
It doesn't help the situation that the film apparently isn't very good. According to The Guardian's Catherinen Shoard, "Few vanity projects can be as ill-conceived as this laughless, goggingly slow Uma Thurman vehicle about a stressed mum in Manhattan juggling domestic duties with writing what appears to be the world's worst blog."
Perhaps the most heartbreaking part of the whole situation? Edelbaum's painful reluctance to tell the director of her the news about the grosses. The film was evidently a labor of love that took several years of Dieckmann's life. "I can't bear to ring her and tell her," Edelbaum said. "I'm a producer; I've got a thick skin but, well, she's a creative."