/Film Boston - An Animal Shrink's Opinion Of Best In Show; Jennifer Kroot, Justin Edwards, Simon Rumley, And GEORGE KUCHAR At The Boston Underground Film Festival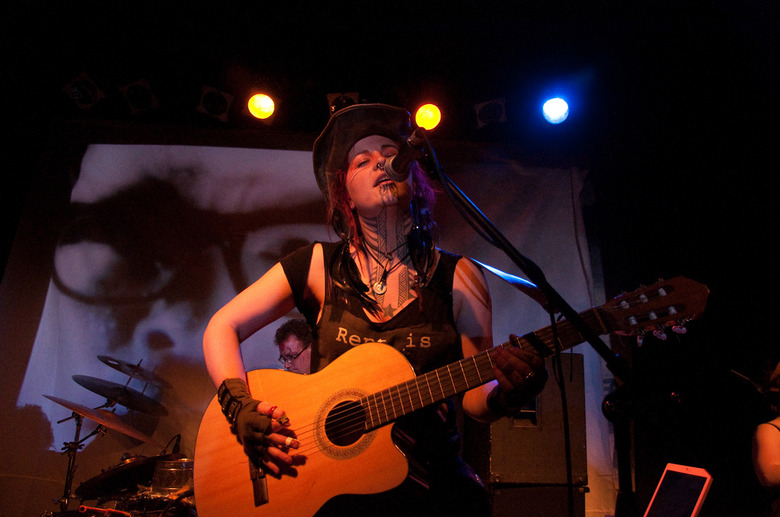 Lots of cool film-related stuff happens in Boston, Massachusetts and not that many people are here to document it, preserve it and spread the word about it. Special screenings, Q&As, panel discussions — we have them all, and frequently too. /Film Boston aims to be a bi-weekly column that will bring you audio and video content from film-related events around the Boston area. If you don't live in Boston, I hope that this column will give you a window into some of the cool stuff that happens here regularly. If you do live here, hopefully you'll come here to get the heads-up on what's been going on, and what is to come.
After the break, veterinary behaviorist Nicholas Dodman weighs in on how accurate Best in Show is, plus interviews with directors from the Boston Underground Film Festival. Also, see video a cross-dressing dude with a Hitler haircut and mustache perform a cappella. You can also subscribe to this column by RSS or by e-mail below. [Above photo: A performer at the Boston Underground Film Festival's opening night Tokyo Steampunk party. ALL photos of this post courtesy of  Justin Moore]
A couple weeks back, Coolidge Corner continued their "Science on Screen" series by inviting a local veterinary expert to talk about Christopher Guest's Best in Show. I couldn't make it, but my colleague Matt was able attend and get footage of this event, which I've embedded below. For me, it's always interesting to hear real-world people talk about how accurate movies are, and this instance was no exception (I could have done without the very unnecessary plot summary at the beginning of the talk though).
This week also marked the beginning of the Boston Underground Film Festival, a celebration of the underground film scene. There's not an enormous audience for these types of films in Boston, but from the parts of the festival that I attended, it struck me as a scrappy, yet charming festival, and in general, a whole lot of fun.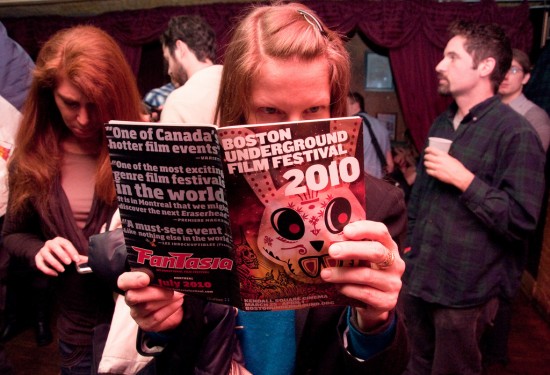 I had the opportunity to see It Came from Kuchar, a sweet documentary about legendary underground filmmaker George Kuchar. Kuchar was one of the pioneers of the Underground Film movement in the 1960s and has made over 200 films, most of them low-budget and using non-actors (currently no complete filmography exists for his films, as there are too many of them, but you can see IMDB's attempt).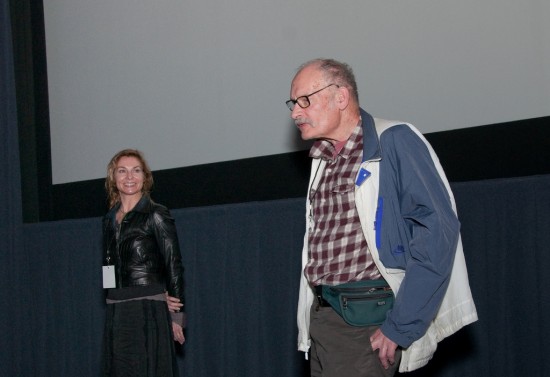 Here's my interview with the director of the It Came from Kuchar, Jennifer Kroot (pictured above, with George Kuchar on the right), in which she divulges the film's heartwarming message about life and art:
And my interview with the man himself, George Kuchar. We talked about the reason for showing feces on screen, the role of religion in his movies, and why right now is the best time to make a movie. This guy is awesome. [Note that I incorrectly say the title of one of his films; it's actually Hold Me While I'm Naked.]
Local filmmaker Justin Edwards premiered his film Love on the Rocks at the BUFF. It has quite possibly one of the most messed up and brilliant trailers I've seen.
I had a chance to speak with Justin the night before his film premiered. Here's our conversation:
In addition, I spoke with director Simon Rumley and DP Milton Kam, whose film Red White & Blue has been garnering tons of praise, about whether or not Avatar deserved to win the Oscar for Best Cinematography, and why Dogme 95 really wasn't very inventive: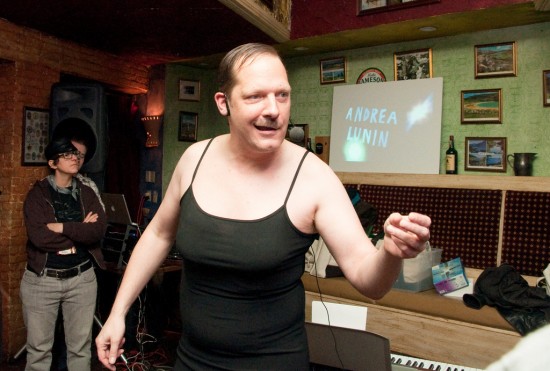 Finally, on Friday night at Tommy Doyle's, BUFF had Kucharfest, a party in honor of Mr. Kuchar. At this party, a cross-dressing man who looked a lot like Hitler got up and performed a bunch of songs a cappella and on the piano. Apparently, his name is Titler. And no, I do not yet know how to react to this information.
Here's some other cool stuff that's happening in Boston in the near future (some info via the Boston Screening Community). Information is subject to change, so always check with the source before trekking out to the screening:
Monday, 3/29, 7 pm – Coolidge Corner is hosting an evening of "an evening of art, art films, discussion, and Q&A" with two of the artists from the 2010 DeCordova biennial.Monday, 3/29, 6:30 pm – Harvard is hosting a screening of Chongqing, with director Zhang Lu in attendance. Wish I could go to this!Tuesday, 3/30, 7 pm – The Harvard Film Archive is screening Rashomon for free.Thursday, 4/1, 7 pm – WGBH is screening Sundance-featured film Earth Days with a discussion to follow featuring writer/producer/director Robert Stone and others. It's free, but RSVP is required.Friday, 4/2, 7 pm – BU is screening Sergio, with director Greg Barker in attendance. The late Karen Schmeer won the Documentary Editing Award for this film at Sundance in 2009.Friday, 4/2 through Sunday, 4/4, 7 pm – The Harvard Film Archive has a series on "The Comic Art of Martin Rejtman." Director Rejtman will be in attendance.Monday, 4/5, 7 pm – Coolidge Corner continues their "Science on Film" series with a screening of Crouching Tiger Hidden Dragon and a talk by a BU physics professor. Physics + Crouching Tiger sounds like it will be an awesome event.Thursday, 4/1, 6:30 pm – The Brattle is hosting Motion Graphics Fest 2010, New PsychedeliaMonday, 4/6, and Tuesday, 4/7, 7 pm - The Harvard Film Archive has free screenings of In the Mood for LoveFriday, 4/9, 11:59 pm - The Coolidge Corner hosts a Pee Wee's Big Adventure quote-alongFriday, 4/9, 7 pm – The Harvard Film Archive will screen two films with director Kamal Aljafari in attendance.Saturday, 4/10 and Sunday, 4/11, 11:59 pm – The Coolidge Corner has midnight screenings of Paul Verhoeven's RobocopSaturday, 4/10, 11 am - The Brattle is screening Fast, Cheap, & Out of Control for FREE.Sunday, 4/11 and Monday, 4/12, 7 pm - The Harvard Film Archive screens Gandhi's Children and With Morning Hearts. Director David MacDougall will appear at both screenings.All This Week And Next Week – The Brattle Theater is playing a bunch of films by Akira Kurusawa in honor of his 100th birthday!Coming Soon – This week, the Independent Film Festival of Boston announced their lineup. GET PSYCHED!
***
For now, /Film Boston is an experiment, a movie travelogue of sorts. I know the camera audio/video quality can be better, but I hope you find it viewable/listenable, as well as entertaining and interesting.
Hosting an event in Boston that you want me to cover? E-mail me at slashfilmcast(AT)gmail(DOT)com. Readers should also feel free to e-mail me if you have any other feedback, or any ideas of what you'd like to see here. What do you like about the column? What don't you like? etc.Like /Film Boston? Subscribe to it by RSS or by e-mail below to receive updates automatically:
Delivered by FeedBurner