Anaheim Wants To Be Comic-Con's New Home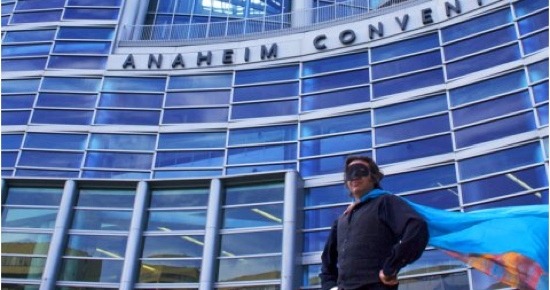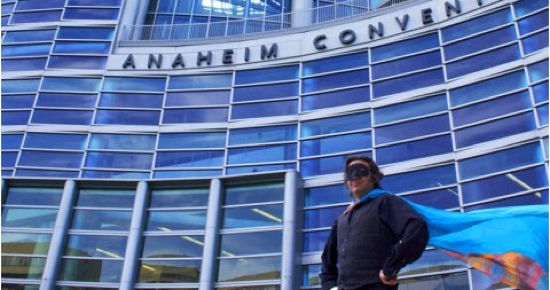 The Anaheim and Orange County Convention & Visitors Bureau have issued a public letter announcing their intentions to make the Anaheim Convention Center the new home of Comic-Con, when the convention's contract with San Diego runs out in 2012.
Anaheim touts their 1.6 million square feet of convention space, the fact that they have 12,000 hotel rooms within one mile of the Anaheim Convention Center, 7,000 rooms within walking distance and much more. They have also launched a Facebook fan page "to gauge the fervor of the Southern California crowd" and show Comic-Con organizers "just how excited people" are about the possibility of Comic-Con International moving to Anaheim. Hotel availability/location, and convention space are both huge problems with the current San Diego location, and it is growing worse by the year. Anaheim is a lot closer than most of the cities making a bid for the convention. And on a side note: how much fun would it be to have all the costumed cosplayers invade Disneyland a day before the convention kicks off each year?
You can read the full letter, after the jump.
Dear Comic-Con International,
This probably isn't much of a surprise to you, but we want Comic-Con International to make Anaheim its new home for 2013 (and beyond).
It's likely that you've heard all about Anaheim and the Anaheim Convention Center's great qualities (we've listed 8 of them here), including the fact that we are the largest convention center on the West Coast.
And you've probably heard even more about us since we put in our bid for the 2013 event.
We believe that the Anaheim Convention Center is a shining example to others when it comes to event planning for massive conventions, tradeshows and fan fests.
We are also very confident that Anaheim/Orange County is a great destination for convention attendees interested in value and fun.
However, we get the feeling that it is going to take something extra to get you to leave a place of comfort and familiarity to come to Anaheim. We need to show you the level of interest and excitement that Comic-Con International elicits out of this huge Southern California drive market.
You need to be assured that moving to Anaheim is the best decision you could ever make.
So we've arranged a little experiment.
We've set up a Facebook Fan Page to gauge the fervor of the Southern California crowd; a page to show you just how excited people would get at the mere consideration of Comic-Con International moving to Anaheim.
Of course, there will be those who differ in sentiment, and those opposing viewpoints will be welcomed. Dissent will be handled with respect to the commenter, San Diego, and Comic-Con International.
Trolls, on the other hand, will be fed to the pit monster.
The outcome of this endeavor is unknown, but the effort will benefit us all by helping you decide the best possible location for Comic-Con International 2013 and beyond.
Good luck to us all.
Sincerely,
Anaheim/Orange County
Top 8 Reasons to Move Comic-Con International to Anaheim, CA
Convention Center Size:
The Anaheim Convention Center has a total facility area of 1.6 million square feet (including 815,000 square feet of exhibit space and a quarter-mile-long indoor lobby) and is the largest convention center on the West Coast. The headquarter hotels on the convention center campus bring the total exhibit space to more than one million square feet.
Proximity of Reasonably Priced Hotel Rooms:
Orange County has 55,000 guest rooms total. 20,000 of these guest rooms are located in Anaheim. There are 12,000 hotel rooms within one mile of the Anaheim Convention Center and 7,000 within walking distance, all within a variety of competitive price points.
Convention Center Experience:
The Anaheim Convention Center has experienced success with conventions, events and tradeshows of Comic-Con International's size and type. An important reason for our continued success is our convention campus, which consists of the Anaheim Convention Center, Hilton Anaheim and Anaheim Marriott. The convention campus is a hub for fan fests because everything is centrally located; the next event, session, panel, or after-party is only a few steps away.
Southern California Central:
The Anaheim Convention Center is located in the center of populous Southern California (population is more than 20 million) and is 30 minutes from the heart of the entertainment industry. The Anaheim Convention Center also has parking to accommodate this drive market (7,800 spaces).
Airport Access:
Domestic and international attendees can access the Anaheim Convention Center via four airports. Los Angeles International (LAX), Long Beach (LGB), John Wayne (SNA) and Ontario (ONT), each having a variety of transportation options, are all within easy driving distance to the Anaheim Convention Center.
Family-Friendly Destination:
With top attractions like Disneyland® Park, Downtown Disney® District, Disney's California Adventure® Park, Knott's Berry Farm and 42 miles of iconic beaches, attendees can turn their Comic-Con trip into a full-fledged family vacation.
Things To Do
Contrary to the perception of some, there is lots to do in the Anaheim Resort Area. Both Downtown Disney District (which has venues like House of Blues Anaheim, Ralph Brennan's Jazz Kitchen, ESPN Zone and AMC Theatres) and The Shops at Anaheim GardenWalk (CinemaFusion, 300 Anaheim, Bar Louie, and FiRE + iCE, Heat Ultra Lounge) offer visitors plenty of after-hours entertainment. The Honda Center, Grove of Anaheim, Downtown Anaheim, The Block at Orange and Stadium Promenade are also nearby and can be accessed via the Anaheim Resort Transit Shuttle or Taxi.
Safety & Security:
Anaheim is the safest city to visit of 35 U.S. cities with a population of 250,000 – 500,000 according to U. S. Justice Department statistics. Anaheim is a safe and secure destination with a tourist oriented policing (TOP) team dedicated to keeping attendees protected.