Alice In Wonderland Scribe To Pen Maleficent, A Revisionist Take On Sleeping Beauty's Evil Queen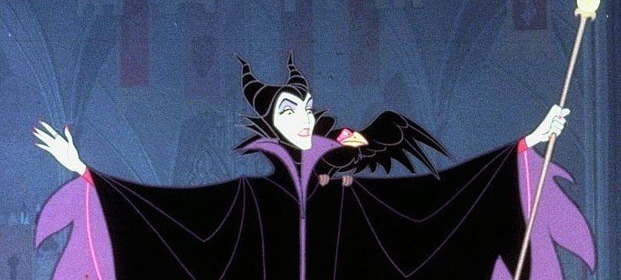 Back in January it was rumored that Disney was developing another revisionist re-take on one of their cartoon classics for Tim Burton to direct. Maleficent, a retelling of the Sleeping Beauty story that focuses on the Mistress of all Evil. Heatvision confirms the previous reports, adding that Alice in Wonderland screenwriter Linda Woolverton was penning the script. The site also notes that Tim Burton may direct, but it is one of the many projects the filmmaker is circling. The screenplay for Alice in Wonderland was one of the film's many short comings. I hope that Woolverton can turn this interesting concept into something much more.
Previously from Brendon Connelly:
The studio registered the domain name maleficentmovie.com some time last summer, so I've been waiting for news a while. Of course, until now I wasn't entirely convinced it was going to be a live action picture – well, in so much as it will be live action, which I'm expecting will be probably to just the extent that Alice is – and not an animated spin-off, a la the Tinkerbell series or that Timon and Pumbaa picture.
One question is where this leaves Burton's Dark Shadows, a film we had previously been told would shoot this year. Producer Graham King told CHUD last week that there was not yet a finished Dark Shadows script. Seeing as there's no scheduled release date for the picture, and that Johnny Depp could easily find another one of his nascent projects to slip into place, I'd think we'll be on hold a while before Shadows goes before cameras.
Burton also has his Frankenweenie stop motion picture gearing up to go, but even if he doesn't co-direct that one, as he did The Corpse Bride, the nature of animation should allow him energy and time to overlap some serious preproduction on another film.
The character of Maleficent is a Disney creation, the original storyline having an un-named evil fairy godmother. Since appearing in their Sleeping Beauty toon – in which she had some quite brilliantly grotesque sidekick-minions that I'd love to see in the Maleficent movie – she's cropped up in the House of Mouse TV series and the Kingdom Hearts videogames, both times as the supreme evil mastermind behind the heroes' and heroines' suffering. Essentially, she's the BIG Big Bad at Disney. As such, I'm not sure they'll let the adult Maleficent be a sympathetic character and if she's really going to be the film's protagonist, I suspect we'll have to go back in time a little, a la Wicked, and find out just why she's grinding her axes.
I definitely hope we get to see Maleficent in her magnificent Dragon form. Smaug's new master Guillermo del Toro has described this as one of his favourite dragons, and it isn't hard to see why.