Ti West Updates On The Innkeepers, His Follow-Up To The House Of The Devil; Starts Filming In April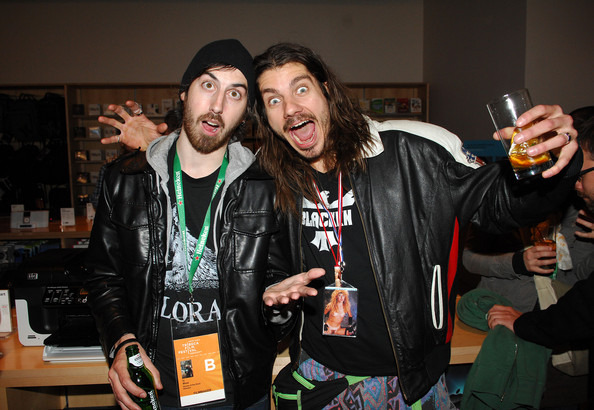 Next month, one of my favorite independent and more outspoken directors of late, Ti West, will begin shooting a follow-up to last year's breakout hit about Satanic Panic The House of The Devil. Filming on location in Connecticut (where THotD was also shot) and entitled The Innkeepers, the film is said to follow "the last two staffers at a hotel that's going out of business"—a hotel that may have ghostly occupants. When I previously emailed West to see if The Shining would be an influence and whether the film addresses "reality" tv shows like Ghost Hunters, he wrote back: "This movie incorporates and comments on the trend of those type shows etc. but is also a very classic ghost story. I'm psyched. I think it blends the classic ghost story style with a solid modern twist.  It will be really fun, fresh and scary."
In a new chat with FearNet at SXSW, where West was speaking on a horror panel, he dished out more tidbits on the project. The haunted hotel that's central to the story is actually the same hotel he and his crew stayed at while making THotD, and the plot will be informed by "a lot of [his] experiences there." Similar to what he shared with /Film, West goes on to say The Innkeepers will be scarier than THotD, will also have a healthy number of jokes, and will "definitely be more commercial than THotD" but with an "indie sensibility that will make it unique."
More details below. And we'll go ahead and tack on a NSFW list of the top five things we dig about West's Cabin Fever 2: Spring Fever, the super gory straight-to-DVD sequel he has disowned following creative differences with Lionsgate...
More on The Innkeepers: the film will have a similar budget to The House of the Devil; it will be co-produced by Larry Fessenden Glass Eye Pix, which has backed all of West's films sans Cabin Fever 2; it will have a "very structured three-act pace" that West feels is requisite for a ghost story; the film is not about one person, so expect more dialogue and fewer scenes of a "hipster girl walking and walking and walking" to quote haters like /Film's Brendon; he implies that it won't be stylized like an '8os period piece or an '80s homage per his last two films.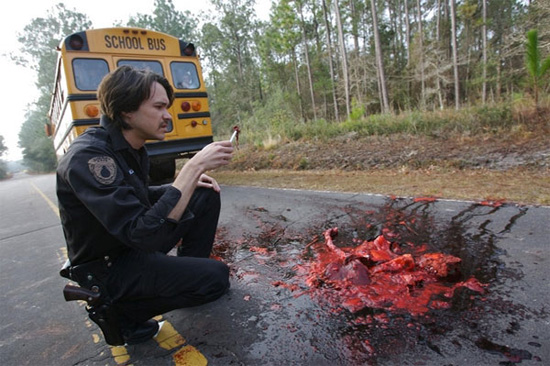 Top Five Effed and/or Awesome Moments in Cabin Fever 2: Spring Fever
1. Uh, what we can only describe as the film's climatic "diseased wang leaking pus" shot. Unfortunately, we're not able to include a screengrab of said scene due to the graphic nature, nor have we been able to mix mayonnaise with ketchup in the weeks afterward due to the similarity in color and texture (truthfully, we never mixed those while sober, but still...). Anyone else think this scene might have been inspired by Charles Burns's Black Hole? We also need to mention the blowjob scene by a bracefaced would-be Lohan that causes the grotesque manhood mutation. That alone would warrant a dishonorable mention here.
2. (Pictured above) The film's entire intro, which is a subtle ode to A Nightmare on Elm Street 2 and sees a school bus slam into a cabin fevered Rider Strong—note: reprising his role of Paul from Eli Roth's original—resulting in a glorious, massive Ti-die splatter of guts to let kids know damn well: the low-brow grossouts to follow are executed by professionals.
3. The obese girl who strips and goes not-so-skinny dipping into the high school pool at night—a scene of honest depravity and teenage desperation befitting Todd Solondz—only to lose 300 pounds of flesh. Fast! Grab a pool cleaner! Ah, fuck it. Let's dance to The Ramones.
4. Small roles for 30 Rock's Judah Friedlander and, holy shit, American Movie's Mark Borchardt, who nicely fulfills his lifelong horror dreams here and knocks a cop the fuck out for good measure. Bonus points: His famed van cameos. We're surprised Borchardt's participation hasn't received more attention from indie hermits.
5. Not enough horror films exploit the intense vicariousness of a fingernail falling off and then being shoved back under the skin. Try not to wince from the gooey sound effects laid on top.