New Toy Story 3 Character: Sparks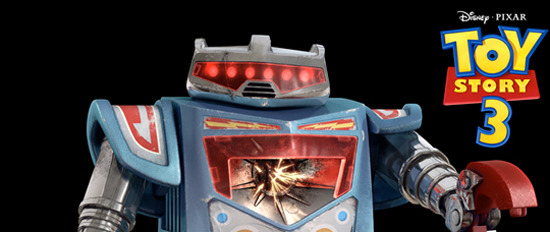 Briefly: Today is a Toy Story 3 day in a couple of ways. While Peter just saw the film at ShoWest, we've got a new character poster to show off. Not quite equivalent things, are they? The new character is Sparks, and he's basically the robot of every boy's dreams...in the late '50s, at least.
The marketing copy for Sparks goes like this:
Sparks will fly – literally – during electrifying playtimes with your new robot friend Sparks! This retro-inspired toy has flashing red LED eyes and a blaster cavity that actually spits out real sparks when he's rolled along on his sturdy rubber wheels. Sparks also sports telescoping arms with working pincers, and an elevator action that raises his entire body to new heights. Sparking action completely child-safe. Requires two AA batteries (not included).
Hit the jump for a full look at the poster and a little video of the character model. And what did Peter think of the film? "Toy Story 3 was great, last 30 minutes were pure brilliance," he said.