Dakota Goyo Cast In Real Steel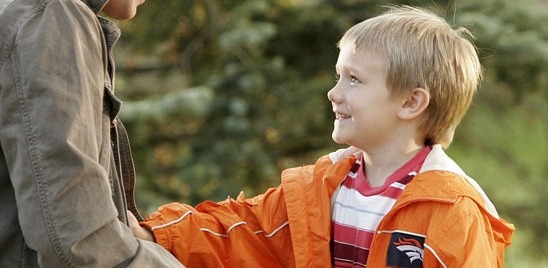 DreamWorks' has hired 11-year-old Canadian Dakota Goyo for the lead role in Shawn Levy's futuristic robot boxing movie Real Steel. Goyo has worked mostly on Canadian television, but appeared alongside Samuel L. Jackson and Josh Hartnett in Resurrecting the Champ and more recently in the Woody Harrelson indie superhero dramedy Defendor.

The film, set to hit theaters on November 18th 2011, tells the story of a father and his estranged 11-year-old son who enter the world of robotic boxing. You see, in the future, human boxing has been outlawed, replaced with sports combat between human-trained 2000-pound heavy steel robots. Levy has described the story as "rousing sports movie". Hugh Jackman will an ex-fighter who has "to reinvent himself when human boxers are replaced by robots" and finds that he has an 11-year-old son. He decides to become a promoter , but "access to sub-standard robot parts hampers his hopes for glory in Robot Boxing, until he discovers a discarded robot that always seems to win." He bonds with his son over the robot fights.
Dreamworks found Goyo after a nationwide video tape casting search and open casting calls in New York City and Chicago. The role of Max, described as "a street-smart, tough, charming kid with a hard, untrusting outer shell which hides a warm enthusiastic spirit beneath. He is a complicated, strong-willed and resourceful boy."
source: THR