Joaquin Phoenix To Play Edgar Allan Poe In The Beautiful Cigar Girl?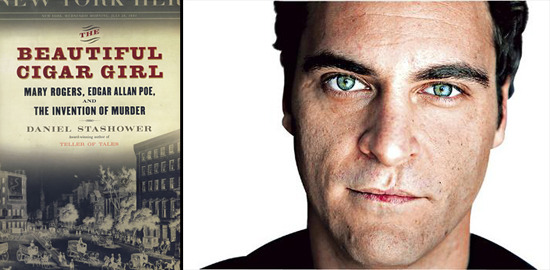 Joaquin Phoenix famously 'retired' from acting a year ago (after finishing Two Lovers) to start some sort of career as a rap MC which may or may not be fodder for a documentary or other film product of sorts involving Casey Affleck. It's all a bit murky, really, but I don't think anyone has ever been convinced that Phoenix is really retired. If this report is correct, he isn't, and will in fact be playing Edgar Allan Poe in an adaptation of Daniel Stashower's book The Beautiful Cigar Girl.
The news comes from the Mumbai Mirror, by way of The Playlist and their magical Google alerts. The messenger is Resul Pookutty, a sound man who won an Oscar for his work on Slumdog Millionaire. Pookutty says:
I couldn't be happier because I am doing a period film. It is a very special challenge because I have to recreate the sound textures of New York in 1854. It's an adaptation of The Beautiful Cigar Girl by Daniel Stashower and based on an eerie real-life experience of author Edgar Allen Poe which happened just months before his death. Joaquin plays Edgar Allen Poe.
The central concern of the book is the death, perhaps murder, of tobacco clerk Mary Rogers, who while alive somehow became a minor celebrity in 1841 Manhattan. Her beaten body was found along the Hudson shore in Hoboken in July 1841. No one was ever convicted of her murder, and a year later an innkeeper claimed that Rogers was the victim of a botched abortion that took place at her inn.
The case was prominent on it's own, but a year later Edgar Allan Poe made it the subject of 'The Mystery of Marie Rogêt,' which featured his Parisian detective Dupin and his attempt to solve the murder. The story is said to be the first detective tale based on the events of a real crime, and while that claim may be suspect, it is certainly the first published while the inspirational crime was fresh in the public mind.
Stashower's book recounts the grand spectrum of the story, from the death of Rogers to the involvement of Poe and the public audience that took it all in. Sounds a bit like the 19th century The Black Dalia.
There aren't many more details available on the film — no director or writer, no other stars. Hard to say where this one is, in terms of development.
Then there's the other Poe film going; that's The Raven, directed by James McTeigue and starring Jeremy Renner. Totally different movie, though it also contains a portrayal of Poe.