Richard Jenkins And Bruce Thomas Join Farrellys' Hall Pass, More Script Details Revealed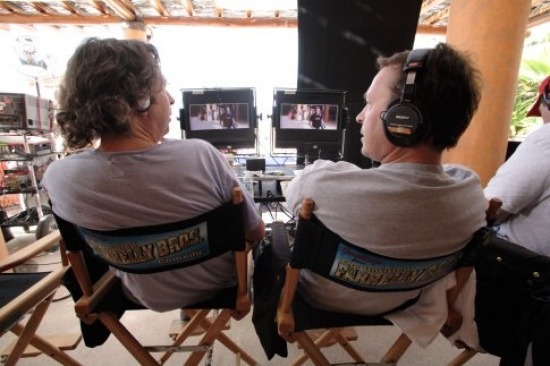 Over the past month, every week there seems to be a new casting announcement for The Farrelly Brothers' comedy Hall Pass. And even though the comedy has already begun filming, this week isn't any different. Variety reports that two more have joined the film, Richard Jenkins and Bruce Thomas (Kyle XY).  Jenkins will portray Coakley, a man who never settled down, while Thomas plays a baseball player.
The cast includes Owen Wilson, Jenna Fischer, Jason Sudeikis, Stephen Merchant, Christina Applegate, Alyssa Milano, Larry Campbell and Vanessa Angel and J.B. Smoove. Last week we learned that Amanda Bynes left the project. Wilson stars as Rick, a husband in a dull marriage whose wife gives him a 'hall pass' — ie a license to engage in a week's worth of extra-marital affairs. Sudeikis co-stars as Wilson's best friend, who also gets a pass to get whatever ass he can. We have more details on the film's plot, after the jump.
ScriptShadow has a review of a September 18th 2009 draft of the screenplay, which reveals a few more details about the project. Here are some choice excerpts:
Grace and Maggie, the wives, aren't exactly living the high life either. Taking care of the kids and keeping the family above water on a daily basis has taken its toll, and it's clear that their marriages need something, some spark, to reinvigorate them. And it's during a therapy session that Maggie gets the answer. Her therapist suggests giving her husband a "hall pass," a free pass away from the marriage to do anything he wants, cheat, lie, steal, whatever. Maggie's horrified by the idea but the therapist assures her that what most men realize when they get the opportunity to do whatever they want, is that they never really wanted to do it in the first place. Maggie discusses it with Grace, and the two reluctantly hand their husbands that most coveted of all treasures – FREEDOM!
In the meantime, the two gals will go hang out up at the summer home, allowing the men to have the lay of the land without interference. Fred and Rick can't believe their luck. And the news spreads like wildfire. Soon, all of their friends are rushing over, wanting to witness the magical event firsthand. How many girls can they have sex with in a week? Ten? Twenty?? Well, as you can imagine, things don't go exactly as planned. ... Rick and Fred realize that, hey wait a minute, picking up women is hard. And now that there's actually pressure to *do* something instead of just *saying* they're going to do something, it's like, really hard. Not to mention they don't exactly have the stomachs and the hair that they used to. Each day of "picking up women," therefore, ends in pathetic failure, making them feel even worse than if they'd never gotten a hall pass in the first place. To make matters worse, their wives realize, hey, if the guys aren't officially married to *them* anymore, then they must not be married either, which means they can experience a little Desperate Housewives action of their own. So they head over to Maggie's father's minor league baseball team and start swooning over the hot young baseball studs, which leads to all sorts of temptation. Will they cave? Will the guys cave? Does anyone really want to cheat?
You can read the whole script review over on Script Shadow. Shooting began a couple weeks ago in Atlanta. (With Atlanta standing in for New England.
Previously:
The spec screenplay was sold back in 2005 for a high six-figures to Fox, but was subsequently put into turnaround and snatched up by New Line.
Stephen Merchant and J.B. Smoove play friends of Rick (Wilson) and Fred (Sudeikis) who "accompany them as they cut loose and attempt to cash their tickets."
Hall Pass was written by Pete Jones as a spec, then rewritten by Kevin Barnett and Peter and Bobby Farrelly.
New Line picked up the film after Fox put it in turnaround
It sounds like a comedy in line with the tame recent work of the filmmaking brothers rather than the broad, over the top stuff that made them popular in the first place.