Clint Eastwood Directing J. Edgar Hoover Biopic Written By Dustin Lance Black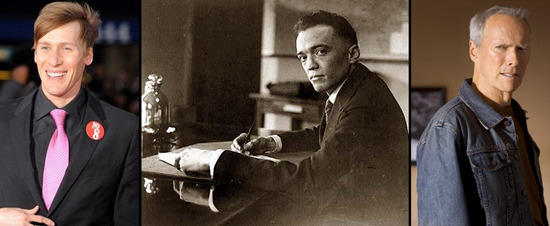 Just days ago we told you about a proposed biopic of original FBI director J. Edgar Hoover that is being written by Milk scribe Dustin Lance Black. Now the film has a director attached, and it isn't who I expected to hear signing on. Clint Eastwood is now attached as the film looks for a studio home.THR reports that, while Black wrote the screenplay for Ron Howard and Brian Grazer at Imagine Entertainment under the auspices of a deal with Universal, that studio put the film into turnaround. So the Hoover biopic is now looking for a new studio. Given the fact of Eastwood's attachment it isn't difficult to guess that we'll see the film wearing a Warner Bros. shield, since his own production company Malpaso is based at WB.
Beyond that, we don't have a lot more info than when I last covered the project. I'm oddly ambivalent about having Eastwood on this. While, in general, he can certainly turn out a competent, confident film, and attract a high-caliber cast, I'm concerned about this one having an Invictus-level feeling of lethargy. I have a long-standing respect and admiration for Eastwood, and love the fact that he is a very active director as he's about to turn 80. But he isn't always the most passionate director we've got going, so the question is: do you want to see an even-handed look at Hoover, or one that pushes the depiction of America's most famous lawman a little bit?
It's that aspect of being able to attract a hell of a cast that interests me. Eastwood's movies have turned into an Oscar machine for actors, so don't doubt for a second that he'll pull some serious talent to this. But who plays Hoover? I have no good guesses, based mostly on the fact that we don't know what period (or periods) of the FBI director's life the film will cover.