Evan Rachel Wood Exits Spider-Man Broadway Production; Kathryn Bigelow Passed On Directing The Film Reboot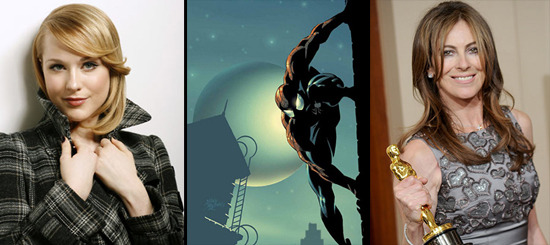 I can't stop chuckling about Spider-Man: Turn Off the Dark. That's the Broadway musical version of the character that has gone way over budget ($50m+) and features music from Bono and The Edge. Granted, I have a great love for the show's director, Julie Taymor, and perhaps she can pull this one out of the fire, but the whole enterprise seems like a fatally flawed attempt to shoehorn a character into the wrong environment.
Now, just as the musical is set to begin a preview period that has been delayed multiple times, it has lost a lead actress. Evan Rachel Wood is gone, leaving Turn Off the Dark in need of a new Mary Jane.
According to Variety, producers of the show acknowledged that Wood had left, due to a 'scheduling conflict'. That leaves leads Reeve Carney as Peter Parker and Alan Cumming as the Green Goblin. (The latter being a genuinely cool bit of casting.) The show will likely go on. If a lack of funds didn't derail it in 2009, a little recasting problem isn't likely to throw it off, either. There has been too much invested to let a good career move by Evan Rachel Wood kill the project now.
Meanwhile, there's an interesting little tidbit about the Spider-Man film reboot in an LA Times article about what the various Oscar winners from this past weekend's ceremony will be getting up to next. The LAT says that Kathryn Bigelow passed on directing Spider-Man before the offer went out to Marc Webb.
That's not a huge deal, and Bigelow was likely one of many people approached. But given the recent intersection of her career and that of ex-husband James Cameron, who once planned to make his own Spider-Man movie, it is a neat little detail. In all likelihood, she passed so as not to be in thrall to Sony for the next several years, and who can blame her? She's apparently still got Triple Frontier on deck, as well as the HBO pilot The Miraculous Year.