New Zealand Might Build A Wellywood Sign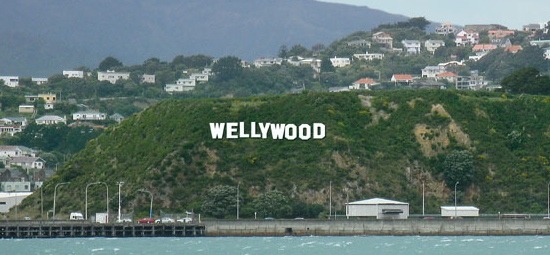 New Zealand's Wellington Airport have announced plans to pay for the construction of a Wellywood sign above Miramar Wharf to celebrate the heart of New Zealand's film industry. Peter Jackson's WETA Workshop, the special effects / production facility behind the Lord of the Rings films, District 9 and Avatar, is located within a mile of the Wharf and proposed sign.
The film industry contributes an estimated $285 million a year into the Wellington economy, and tours of film-related locations and facilities is becoming one of the city's biggest tourist attractions. An estimated 100,000 people last year visiting Weta's mini-museum, theatre and gift shop.
The sign will mimic the famous Hollywood sign in Los Angeles, California, although it will be much smaller: only 90 feet long and 10 feet tall, compared to the Hollywood sign's size of 200 feet long and 50 feet tall. But according to Stuff, not everyone in Wellington is happy about the new sign, and two facebook pages opposing the sign have been set up.
Personally I think it's pretty cool, but I don't live there and don't have to look at the sign regularly. That said, I do live in Hollywood, and always admire the Hollywood sign whenever it is in sight. But on the other hand, that has a history to it, and the entertainment industry is pretty much inseparable from the city of Los Angeles.
via: TORN