Viggo Mortensen Replaces Christoph Waltz In David Cronenberg's The Talking Cure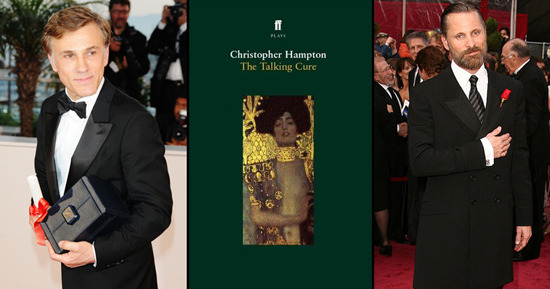 Back in December we got word that David Cronenberg would in fact shoot The Talking Cure, an adaptation of the Christopher Hampton play about Sigmund Freud and Carl Jung that was floated as a possible Cronenberg project back in 2007. At the time, he seemed to have a fantastic cast lined up: Christoph Waltz as Freud, Michael Fassbender as Jung, and Keira Knightley as Sabina Spielrein, the patient with whom both men have a relationship of sorts.
Now, sadly, Waltz has dropped out. But Cronenberg's recent go-to actor, Viggo Mortensen, has stepped in to replace him.
Deadline Hollywood reports on the deal, saying that Waltz had to drop out in order to do Water for Elephants, the Depression-era circus romance being directed by Francis Lawrence. (In which Waltz replaced Sean Penn.) The Talking Cure is scheduled to begin a ten-week shoot in mid-May, which will overlap with Water for Elephants.
Deadline describes Knightley's character Sabina as "a disturbed young woman brought to see Jung by her father."  Jung and Sabina have an affair, and amid the dramatic fireworks, the article reports the film will feature "lots of spirited sex." Hopefully it was the schedule and not the sex that put off Waltz, though it sounds like Fassbender and Knightley will do most of the physical work. So nix that worry altogether, and just focus on the sex.
The actor's departure reportedly threatened the production entirely, but Viggo Mortensen, who has previously worked with David Cronenberg in A History of Violence and Eastern Promises, stepped in to fill his shoes. He'll be more than able to carry off the role, I would expect, but I admit that I was really looking forward to seeing Waltz and Fassbender have scenes together. At the same time, given the cast, the story and the fact that David Cronenberg is in the director's chair, I'll take it, no questions asked.