The Losers Movie Poster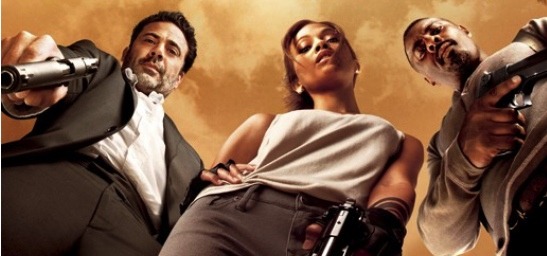 Warner Bros has released a new theatrical poster for the big screen comic book adaptation The Losers, which kinda recreates the drawn Comic Con teaser poster. Check out the full poster image after the jump.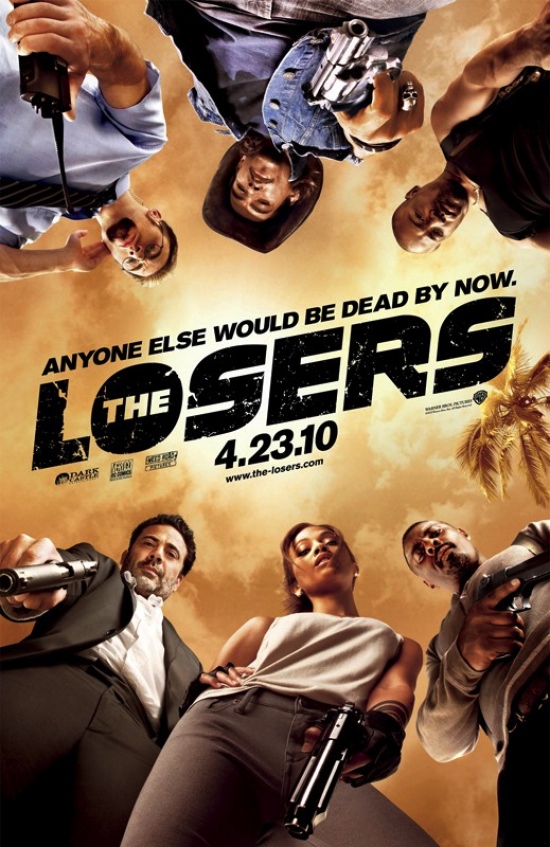 Official Plot Synopsis: An explosive action tale of betrayal and revenge, "The Losers" centers around the members of an elite Special Forces unit sent to the Bolivian jungle on a search and destroy mission. But the team—Clay, Jensen, Roque, Pooch and Cougar—soon find that they have become the target of a deadly double cross, instigated from the inside by a powerful enemy known only as Max.
Making good use of the fact that they are now presumed dead, the group goes deeply undercover in a dangerous plot to clear their names and even the score with Max. They are joined by the mysterious Aisha, a beautiful operative with her own agenda, who is more than capable of scoring a few points of her own. Working together, when they're not arguing amongst themselves, they have to stay one step ahead of the globetrotting Max—a ruthless man bent on embroiling the world in a new high-tech global war for his own benefit. If they can take down Max and save the world at the same time, it'll be a win win for the team now known as The Losers.
"The Losers" stars Jeffery Dean Morgan ("Watchmen") as Clay; Zoe Saldana ("Avatar," "Star Trek") as Aisha; Chris Evans (the "Fantastic Four" films) as Jensen; Idris Elba ("Obsessed") as Roque; Columbus Short ("Quarantine") as Pooch; Oscar Jaeneda ("Che: Part Two") as Cougar; and Jason Patric (My Sister's Keeper) as Max.
Sylvain White (Stomp the Yard) directed the film from a screenplay by Peter Berg and James Vanderbilt, based upon characters appearing in magazines published by DC Comics / Vertigo Comics. "The Losers" is produced by Joel Silver, Akiva Goldsman and Kerry Foster, with Steve Richards, Andrew Rona, Sarah Aubrey and Stuart Besser serving as executive producers and Richard Mirisch co-producing.
The behind-the-scenes creative team was led by director of photography Scott Kevan ("Stomp the Yard"), production designer Aaron Osborne ("Kiss Kiss, Bang Bang"), editor David Checel ("Stomp the Yard"), visual effects supervisor Richard Yuricich ("Orphan"), and costume designer Magali Guidasci ("Zombieland"). The music is by John Ottman ("4: Rise of the Silver Surfer").
Warner Bros. Pictures presents, in association with Dark Castle Entertainment, a Weed Road Pictures production, "The Losers."
Opening nationwide on April 23, 2010, "The Losers" will be distributed by Warner Bros. Pictures, a Warner Bros. Entertainment Company.