70 High Resolution Photos From Tron Legacy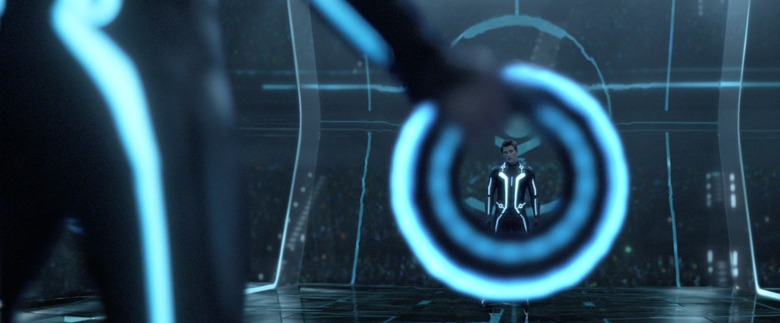 How awesome was the movie trailer for Tron: Legacy? I know I've watched it at least five times now, and that doesn't count the two times I saw it in 3D at the Tron Trailer Premiere Event a week ago. But even then, I haven't seen everything. Especially in the world of Tron, the quick cuts and fast action blast across the screen. For example, did you catch Michael Sheen? He was the guy with white hair looking like David Bowie. And thats probably not the only thing you missed. There is certainly a lot of cool visuals which are worth pressing the pause button to examine at length. Check out all 70 images, after the jump. Click on through to see the images in high (near 2000 pixels wide) resolution.
Official Plot Synopsis: TRON: LEGACY is a 3D high-tech adventure set in a digital world that's unlike anything ever captured on the big screen. Sam Flynn (GARRETT HEDLUND), the tech-savvy 27-year-old son of Kevin Flynn (JEFF BRIDGES), looks into his father's disappearance and finds himself pulled into the digital world of Tron where his father has been living for 25 years. Along with Kevin's loyal confidant Qora (OLIVIA WILDE), father and son embark on a life-and-death journey of escape across a visually-stunning cyber universe that has become far more advanced and exceedingly dangerous.
Notes:
· Producer Steve Lisberger co-wrote and directed the original TRON (1982).
· Jeff Bridges reprises the role of Kevin Flynn, which he originated in TRON (1982).
· Bruce Boxleitner reprises the roles of Alan Bradley and Tron, which he originated in TRON (1982).
· Grammy Award®-winning Daft Punk is composing the music for TRON: LEGACY.