How To Train Your Dragon Clip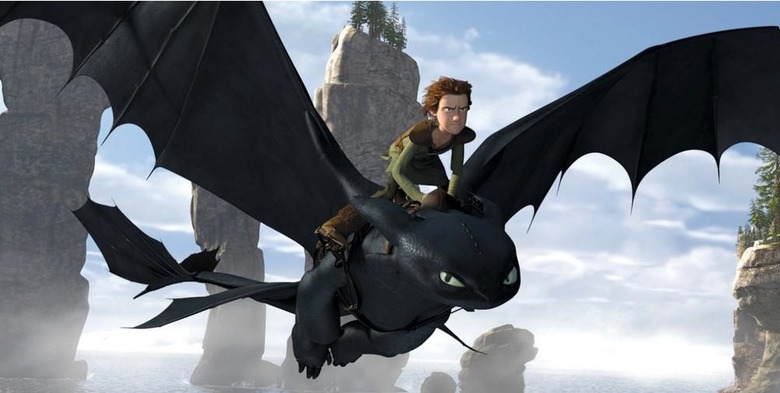 DreamWorks Animation has released a new clip from their upcoming film How To Train Your Dragon on ComingSoon. The clip features a Viking teenager named Hiccup (voiced by Jay Baruchel) who is attempting to tie a harness to a dragon's tail. The sequence seems like it would be a lot more impressive in 3D. Watch the clip now, embedded after the jump.
From the studio that brought you "Shrek," "Madagascar" and "Kung Fu Panda" comes "How To Train Your Dragon" — an adventure comedy set in the mythical world of burly Vikings and wild dragons, based on the book by Cressida Cowell. The story centers around a Viking teenager, who lives on the island of Berk, where fighting dragons is a way of life. Initiation is coming, and this is his one chance to prove his worthiness to his tribe and father. But when he encounters, and ultimately befriends, an injured dragon, his world is turned upside down. The voice cast includes Jay Baruchel, Gerard Butler, Jonah Hill, Christopher Mintz-Plasse, Craig Ferguson, Kristen Wiig, and America Ferrera.
Watch the trailer in High Definition on Yahoo. How to Train Your Dragon hits theaters in March 26th 2010.