2010 Academy Awards Winners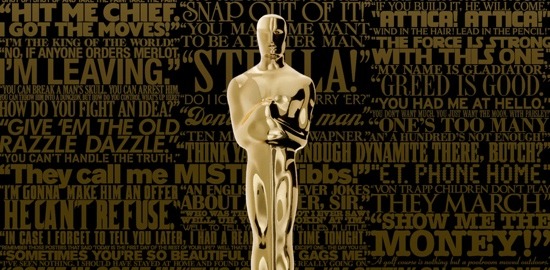 The 82nd Academy Awards have begun. We'll begin to update our live blog of the award ceremony after the jump. Leave your thoughts, commentary, and predictions in the comments below!
The award show has begun...
Samsung is all over the commercial breaks, pushing their new 3D televisions. All because of Avatar.
The show opened with an on stage introduction of all the Actors and Actors nominated for Best Leading Role. That's different.
Neil Patrick Harris has the stage for his musical opening number. The stage is full of white and black, and silver shades og gray. At moments it almost looks like an old black and white movie.
Alec Baldwin and Steve Martin were lowered from the rafters.
Baldwin notes that "Then no matter what, they nominate Meryl Streep" Martin calls it the most losses in Oscar history.
First time the word "Spoiler" was used on the Oscar stage?
They put on red/blue 3D glasses while trying to find James Cameron in the audience.
"Who doesn"t love Sandra Bullock?" "Oh, tonight we may find out.."
Winners:
Best Supporting Actor:
Woody Harrelson – The Messenger
Christopher Plummer – The Last Station
Stanley Tucci – The Lovely Bones
Christoph Waltz – Inglourious Basterds
Penelope Cruz is presenting. I already had Waltz's name red/bolded before they even began showing clips. Waltz was able to turn his thank you speech into a story. Bravo!
Ryan Reynolds introduces a video clip montage from one of the ten Best Picture nominees: The Blind Side. One of the downsides of having ten nominees for Best Picture is we're going to have to sit through ten of these things.
Cameon Diaz and Steve Carell introduced a clip package showing the fictional characters of the Best Animated Feature nominees talking about what being nominated means to them. This is actually pretty cool. I love the Up segment: Carl couldn't hear the interviewer, and Dug the dog ended up licking the camera.
Best Animated Feature Film:
The Princess and the Frog
Pete Doctor and Pixar won for Up. This is probably the first year I wasn't die hard set on Pixar taking home this award. So many solid entries in a variety of different animation formats. Doctor is wearing the bottlecap pin from Up (photo below thanks to firstshowing):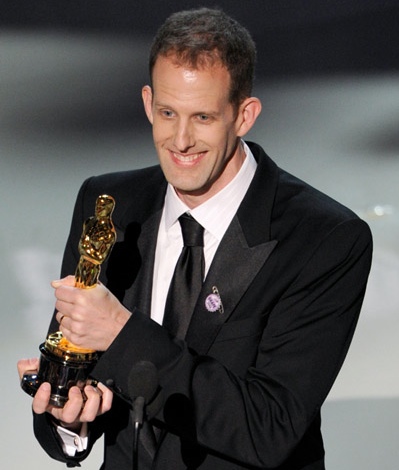 Amanda Seyfried and Miley Cyrus introduce the nominees for Best Song. I'm so glad we dont have to sit through live performances this year.
Best Original Song:
"Almost There" from The Princess and the Frog
"Down in New Orleans" from The Princess and the Frog
"Loin de Paname" from Paris 36
"The Weary Kind" from Crazy Heart
Chris Pine introduced a montage for District 9.
No surprises so far.
Best Original Screenplay:
Mark Boal – The Hurt Locker
Quentin Tarantino – Inglourious Basterds
Oren Moverman and – The Messenger
Joel and Ethan Coen – A Serious Man
Pete Docter and Bob Peterson – Up
Robert Downey Jr. and Tina Fey present the Award. The first of many award wins for The Hurt Locker tonight, I'm sure...
Molly Ringwald and Matthew Broderick presented a special tribute to the late writer/director John Hughes, complete with video package. A very respectable tribute video. Now on stage is an ensemble group of actors who have appeared in Hughes' films over the years. John's family was shown in the audience.
Samuel L Jackson presents a video package for another Bes Picture nominee Up.
This year they have created a video package with directors explaining why moviegoers should care about the short film nominees/winners. I think this is a very smart move. It's definitely a better tactic than previous years where they try to push the less interesting awards off the screen as fast possible.
Best Animated Short:
Granny O'Grimm's Sleeping Beauty
The Lady and the Reaper (La Dama y la Muerte)
A Matter of Loaf and Death
I'm glad to see Logorama win. I screened the film at Sundance and thought despite not looking photoreal, the film was one of the most entertaining shorts I've seen in recent years. The filmmaker of Logorama joked that since the short took him six years to make, he hopes to return with a feature film in something like 36 years.
Best Documentary Short:
China's Unnatural Disaster: The Tears of Sichuan Province
The Last Campaign of Governor Booth Gardner
The Last Truck: Closing of a GM Plant
The first filmmakers to be played off stage by music... Can't say I don't disagree with this decision.
Best Live-Action Short:
Ben Stiller is dressed and made-up like a Na'vi from Avatar to present the award for Best Make-up. Stiller joked "the ironic thing is Avatar isn't nominated" and said that he should have worn Spock ears but commented that a Star Trek get up might have been too nerdy.
Best Make-up:
I'm very glad to see Star Trek win at least one Oscar, even if it is for best make-up. This is probably the only chance they had to take home a statue.
Jeff Bridges presents the Best Picture video montage for A Serious Man.
Ben Stiller's appearance as a Na'vi seems to be getting the same reaction as the movie Avatar: people either loved it or hated it.
Best Adapted Screenplay:
Neill Blomkamp and – District 9
Nick Hornby – An Education
Jesse Armstrong, Simon Blackwell, Armando Iannucci and Tony Roche – In the Loop
Geoffrey Fletcher – Precious: Based on the Novel "Push" by Sapphire
Jason Reitman and Sheldon Turner – Up in the Air
This is my first "BULLSHIT" of the 2010 Academy Awards. Up in the Air, District 9, In the Loop and An Education were all more deserving of this Oscar. This is also the first big upset/surprise of tonight's awards.
Best Supporting Actress:
Vera Farmiga – Up in the Air
Maggie Gyllenhaal – Crazy Heart
Anna Kendrick – Up in the Air
Mo'Nique – Precious: Based on the Novel "Push" by Sapphire
Robin Williams presents. Mo'Nique won, as expected... and she deserves it.
Best Art Direction
The Imaginarium of Doctor Parnassus
Sigourney Weaver presents. And why Weaver? Because Avatar wins, of course...
Best Costume Design:
The Imaginarium of Doctor Parnassus
Tom Ford and Sarah Jessica Parker present. Really don't have much to say about this one.
Charlize Theron presents the best picture video montage for Precious.
Alec Baldwin and Steve Martin's Paranormal Activity parody was funny, but a sad "tribute" to the horror genre.
Taylor Lautner and Kristen Stewart present a video clip tribute to the horror genre, which appears to include a lot of films that were not nominated in previous years.
Zak Efron and Anna Kendrick present the award for Sound editing. Using a clip narrated by Morgan Freeman. the Academy explains how Sound editing and Sound Mixing added to The Dark Knight.
Best Sound Editing:
The second win of the night for The Hurt Locker...
Best Sound Mixing:
Transformers: Revenge of the Fallen
Third win of the night for Hurt Locker. Who would have thought that Hurt Locker would beat Avatar in the two sound awards?
John Travolta presents the Best Picture video package for Inglourious Basterds.
Best Cinematography:
Bruno Delbonnel – Harry Potter and the Half-Blood Prince
Barry Ackroyd – The Hurt Locker
Robert Richardson – Inglourious Basterds
Christian Berger – The White Ribbon
Sandra Bullock presents. Second award of the night for Avatar. Is this the first cinematographer to win an Oscar for a mostly virtual performance-capture production?
Demi Moore presents the video package remembering those in the film industry we've lost over the post year. James Taylor performs music.
Jennifer Lopez and Sam Worthington present a legion of dancers (The LXD) to dance to the music of the Best Original Score nominees.I think The dance sequences were cool, but I think I would have rather seen the music performed on stage.
Best Original Score:
Alexandre Desplat – Fantastic Mr. Fox
Marco Beltrami & Buck Sanders – The Hurt Locker
Hans Zimmer – Sherlock Holmes
Michael Giacchino – Pixar's Up
This is the first academy award for Giacchino, and well deserved. Giacchino is also wearing the grape bottle cap pin. Giacchino took a different approach, didn't go into a list of "thank yous", and instead encouraged young people to persue their creative urges.
Best Visual Effects:
Third win for Avatar, as expected. The Hurt Locker and Avatar are now officially tied.
Jason Bateman introduces the Best Picture video package for Up in the Air.
Best Documentary Feature:
The Most Dangerous Man in America
Matt Damon presents. My biggest regret of this past year is not having seen The Cove...
Best Film Editing:
Stephen Rivkin, John Refoua and James Cameron – Avatar
Julian Clarke – District 9
Bob Murawski and Chris Innis – The Hurt Locker
Sally Menke – Inglourious Basterds
Joe Klotz – Precious: Based on the Novel 'Push' by Sapphire
Tyler Perry made a joke about probably never hearing his name announced at the Oscars. I hope so...
Fourth win for The Hurt Locker, which puts Bigelow's film in the lead.
Keanu Reeves introduces the Best Picture video montage for The Hurt Locker.
Best Foreign Language Film:
El Secreto de sus Ojos – Argentina
The Milk of Sorrow – Peru
The White Ribbon – Germany
Pedro Almodóvar and Quentin Tarantino present. And this is the first huge upset of the Oscars. I think most everyone thought either Un Prophete or The White Ribbon was going to win.
Kathy Bates introduces the Best Picture montage for Avatar. If you haven't noticed, most of the Best Picture video presentors are in some way connected to the director of the Best Picture nominee. Bates was in Titanic, directed by James Cameron, who directed Avatar. Keanu Reeves was in Point Break, directed by Kathryn Bigelow, director of The Hurt Locker...etc.
Best Actor:
Jeff Bridges – Crazy Heart
George Clooney – Up in the Air
Colin Firth – A Single Man
Morgan Freeman – Invictus
Jeremy Renner – The Hurt Locker
Here are the list of presenter mash-ups: Michele Pfeiffer for Bridges, Vera Farmiga for Up in the Air co-star Clooney, Julianne Moore for Single Man co-star Firth, Tim Robbins for Shawshank co-star Freeman, Colin Farrell for SWAT co-star Renner.
Last year's Best Actress Kate Winslet presents. Bridges wins, and thanked his parents for supporting his show business career, his director, and cast. Does this mean that Disney is going to market TRON: Legacy as starring Academy Award winner Jeff Bridges?
Best Actress:
Sandra Bullock – The Blind Side
Helen Mirren – The Last Station
Carey Mulligan – An Education
Gabourey Sidibe – Precious: Based on the Novel "Push" by Sapphire
Meryl Streep – Julie & Julia
Here are the list of presenter mash-ups: Forest Whitaker for Hope Floats star Bullock, Michael Sheen for Queen co-star Mirren, Peter Sarsgaard for An Education co-star Mulligan, Oprah Winfrey for Sidibe, Stanley Tucci for Devil Wears Prada co-star for Streep.
Sean Penn presents. Bullock thanked the other nominees in the category, and tried to hold back the tears while thanking her mother.
Best Director:
Kathryn Bigelow – The Hurt Locker
Lee Daniels – Precious: Based on the Novel "Push" by Sapphire
Jason Reitman – Up in the Air
Quentin Tarantino – Inglourious Basterds
As expected, Bigelow won... but did she deserve it or did the Academy want to make history with the first woman as Best Director? And for the record, I think Bigelow deserved the nomination, but Cameron's direction on Avatar was far more involved, far superior.
Fifth win for The Hurt Locker... only one more to go.
Best Picture:
Precious: Based on the Novel "Push" by Sapphire
I'm sure that in 20 years we'll look back and wonder how Avatar didn't win either Best Picture or Best Director. The Hurt Locker will be this generation's How Green Was My Valley. And for those who don't get the How Green Was My Valley reference, go look up which Oscars Citizen Kane won. I'm not saying Avatar is an incredible film, and no.. I'm not comparing Avatar to Citizen Kane, I'm only saying that Avatar will have much greater significance in years to come over Hurt Locker.