Tracy Morgan Lines Up Two New Comedies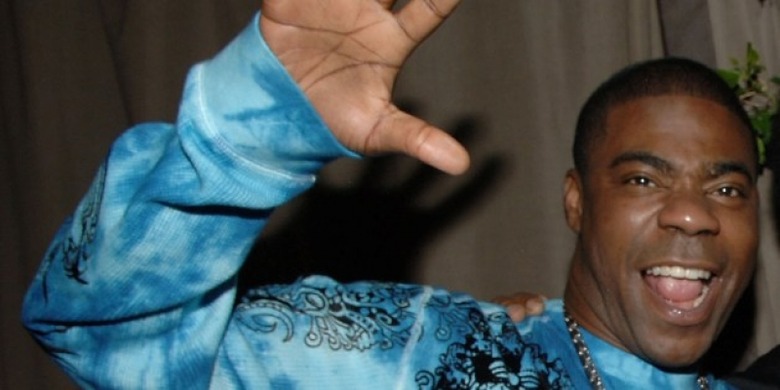 If you were paying any attention to the marketing for Kevin Smith's Cop Out you quickly noticed that it was being sold as a Tracy Morgan movie more than anything else. Kevin Smith was an unknown quantity for a mass audience (difficult to fathom after being around for a while, but it's true) and with Bruce Willis as straight man, the movie was Morgan's to carry or drop. He carried it well enough, and now has a couple more film comedies lined up. But will they be Tracy Morgan movies, or (like Cop Out) more like Tracy Jordan movies?
Not long ago, when 30 Rock was in the middle of a full steam ahead second season, I would have been wildly happy to hear about a slate of Tracy Morgan film comedies. Now, as the fourth 30 Rock season limps to a close and with the stench of Cop Out still in my nostrils, I'm not sure I'm ready. Cop Out felt so much like a movie that Morgan's 30 Rock character would sign on to — I think I'd rather see Who Dat Ninja, honestly.
Deadline Hollywood runs down both new films. The first is ID Theft, a picture set up at Warner Bros. that would see Morgan playing "a cash-strapped father who sees a shortcut out of his struggles when the credit card of a suburban dad lands in his lap." Colin Jost and Rob Klein are writing based on a pitch by Kristofor Brown, and you can bet that Morgan will have some script input as well. No director or co-stars are named yet for that one.
The other film, at Paramount, is Freshman Roommates. There's an existing script for that, by John Mulaney and Nick Kroll, but the studio is trying to get John Altschuler and Dave Krinsky (Blades of Glory) to do a rewrite.
Of the two, ID Theft sounds more fun and more in Morgan's wheelhouse. I'm hoping to see Morgan have a creative resurgence and move past the lackluster stuff we've seen in the past year. Is ID Theft the venue for that? Fingers crossed.