Legend Of The Guardians Teaser Trailer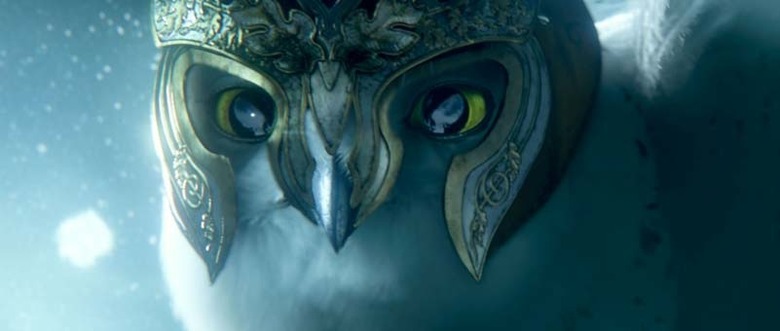 We just saw the first stills from Legend of the Guardians, Zack Snyder's computer animated adaptation of the popular children's book series Guardians of Ga'Hoole. Now there's a teaser trailer online, which you'll also be able to see in theaters with Alice in Wonderland, starting this weekend.
Yahoo has the trailer, which is quite worth a look in HD. Some of the animation is really gorgeous, even when it looks like a motivational poster in motion. The texture on the owls is often amazing, and the whole thing is real purty. Yeah, there's some speed ramping ("This. Is. Ga'Hoole!") and while the 'rock band with a chorus of kids' tune laid over the whole thing is too generic (Peter Gabriel is crying somewhere) overall the impression is pretty good. Might look fantastic in 3D.
Now, when it comes to the story, we know it follows a young barn owl named Soren, who is kidnapped by owls of St. Aggie's,where owlets are brainwashed into becoming soldiers. He and his new friends escape to the island of Ga'Hoole, to assist its noble, wise owls who fight the army being created by the wicked rulers of St. Aggie's.
This teaser doesn't give out all those details, however; mostly it presents the legend of the Guardians and Soren's longing to be among them. Hugo Weaving sounds great as he narrates the beginning of the legend, and the rest of the voice work sounds decent. Other actors in the cast include The film features the voice talent of Sam Neill, Geoffrey Rush, David Wenham, Emily Barclay, Abbie Cornish, Emilie de Ravin, Ryan Kwanten, Jay Laga'aia, Miriam Margolyes, Helen Mirren, Deborra-Lee Furness and Jim Sturgess. Legend of the Guardians is scheduled to hit theaters on September 24th 2010.