Casting Notes: De Niro In Dark Fields; McAdams Works With Woody Allen; Gosling Joining Carell Comedy?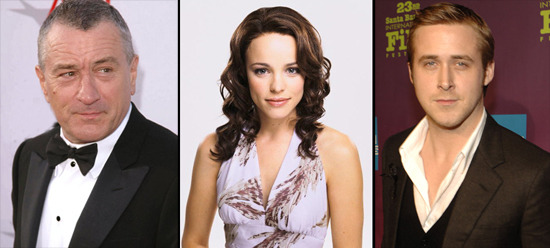 Often with these aggregated casting pieces the idea is to group together a number of fairly small stories. In this case the names are big — Robert De Niro, Rachel McAdams, Woody Allen, Ryan Gosling, Steve Carrell — but the films are either ones we don't know much about or have recently covered in detail. Essentially, we don't have too much to add to the news about any of these projects at this point other than: "hey, now this person is on board."
Take Dark Fields, the thriller directed by Neil Burger that will star Bradley Cooper. There was recently unconfirmed word that Elizabeth Banks is joining the cast, and while that remains to be confirmed, Variety now says that Robert De Niro is on board. He'll play "a brilliant financial mogul who begins pursuing Cooper's character," who is a New York writer "who comes into possession of a designer drug that gives him newfound intelligence and success." Time was I would have been thrilled to heard about De Niro being part of a film like this. Can Burger make this one work? Hope so.
After the break, McAdams augments Allen, and Ryan Gosling might do a comedy.
Woody Allen's new film won't have a title for some time and and is generally an unknown quantity at this point. Owen Wilson and Marion Cotillard are cast and Carla Bruni-Sarkozy may be cast. Rachel McAdams has now joined the 'romantic drama' which will be shot in Paris later this year. Expect to hear some other big names attached to this one soon. [THR]
Finally, there's what seems so far like a super-tenuous report that Ryan Gosling is joining the comedy featuring Steve Carell, written by Dan Fogelman (Bolt, Cars) and directed by John Requa and Glenn Ficarra, aka the guys who wrote and directed I Love You, Phillip Morris.  Original reports peg it as being about "a father whose life unravels while he deals with a marital crisis and tries to manage his relationship with his children." I'd like this to be true, as Gosling and Carell could be a lot of fun, but I'm not putting too much faith in it yet. [Laineygossip, via The Playlist]