New Iron Man 2 Trailer To Premiere On Jimmy Kimmel Live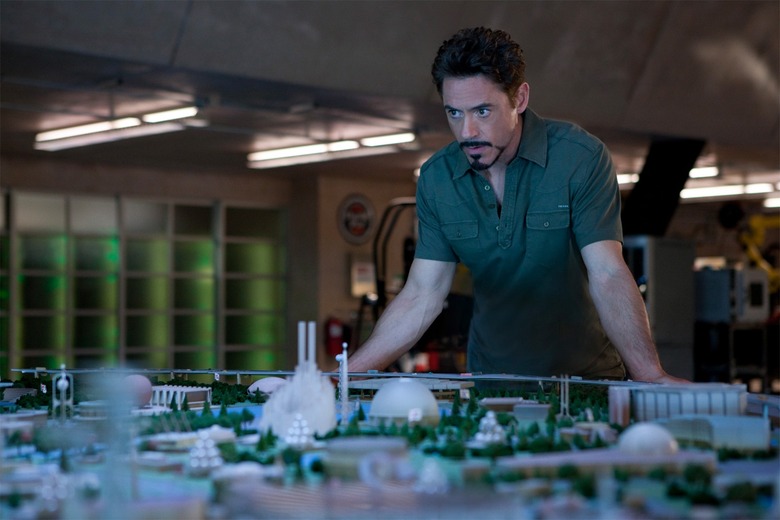 Robert Downey Jr will appear on Jimmy Kimmel Live on Sunday March 7th, following the Academy Awards, to introduce the world premiere of the new Iron Man 2 trailer. You can read the details in a press release after the jump.
ROBERT DOWNEY JR. TO APPEAR ON "JIMMY KIMMEL LIVE: AFTER THE ACADEMY AWARDS(R), ALONG WITH A MUSICAL PERFORMANCE FROM GRAMMY(R) AWARD WINNER KEITH URBAN
Host Jimmy Kimmel welcomes two-time Academy Award(R)-nominated Robert Downey Jr. and a musical performance by Grammy Award(R) winner Keith Urban to the fifth consecutive "Jimmy Kimmel Live: After the Academy Awards", SUNDAY, MARCH 7, immediately following the late local news (12:05-1:05 a.m., ET, approx). Downey will introduce the world premiere of the new "Iron Man 2" trailer only moments before Urban performs his new hit single, "Til Summer Comes Around," from his 2009 album, "Defying Gravity."
On a historic night where Jimmy Kimmel has previously debuted such pieces as "I'm F***ing Ben Affleck" video and Mel Gibson's "The Colonel," tune in to see another celebrity-filled surprise this year featuring special appearances from such notables as Matthew McConaughey, Rob Lowe, Sting, Ben Affleck, Jennifer Garner and many more.
Previous "Jimmy Kimmel Live: After The Academy Awards" celebrations have welcomed Hollywood's biggest movie stars, including two-time Academy Award winner Mel Gibson and Emmy(R) Award winners Jon Stewart and Ellen DeGeneres. Two years ago Kimmel welcomed winner Ben Affleck and premiered the internet sensation music video, "I'm F***ing Ben Affleck," as a rebuttal to the Emmy Award-winning "I'm F*** Matt Damon" video with Sarah Silverman and Matt Damon.
Packed with hilarious comedy bits and a band led by Jimmy's childhood best friend, "Jimmy Kimmel Live" features a lineup of guests that includes celebrities, athletes, musicians, comedians and humorous human interest subjects. Each night, Jimmy delivers up-to-the minute news addressing the hottest topics of the day in his monologue and recently has welcomed such notables as Tom Cruise, Dustin Hoffman, Harrison Ford, Cameron Diaz, Jake Gyllenhaal, Tobey Maguire, Charlize Theron, Don Cheadle, Hilary Swank, Orlando Bloom, Reese Witherspoon, Robin Williams, Kanye West, Heidi Klum, Kobe Bryant and Janet Jackson, as well as performances by Coldplay, The Killers, Ozzy Osbourne, Kelly Clarkson, Linkin Park, Incubus, Destiny's Child, Tim McGraw, Avril Lavigne, 50 Cent, Depeche Mode, Mariah Carey and many more, including Matt Damon well, almost Matt Damon.
Jimmy Kimmel and Jill Leiderman serve as executive producers of "Jimmy Kimmel Live." Jason Schrift and Douglas DeLuca serve as co-executive producers. "Jimmy Kimmel Live" is shot live in front of a studio audience and produced by Jackhole Industries in association with ABC Studios. For more go to www.jimmykimmellive.net
via: The Futon Critic