Samuel Bayer Wants To Direct Comic Book Movie: Garth Ennis' The Boys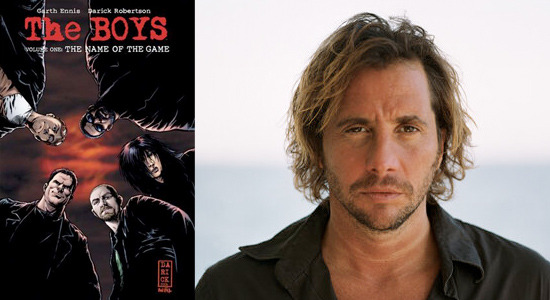 We may receive a commission on purchases made from links.
Earlier today, we published a story about how Samuel Bayer is not interested in directing a sequel to A Nightmare on Elm Street, and hinted that he is developing an adaptation of a graphic novel.
There's a comic– I'm sure my agent would kill me for this, because I'm sure I'm not supposed to talk about it or whatever, but I don't really care, is that– no, my assistant is shaking her head. No. No? No? I was going to mention a project. Shut up? Okay. I'm doing what people tell me. Yeah, I'll bury myself with this one. There's some very, very cool stuff out there. I'm really into graphic novels and really into the superhero genre, and I really think there's some interesting stuff going on, and I think that's what I'm leaning towards.
Shock was able to uncover the identity of the comic book property: Garth Ennis' The Boys.
Here is what Bayer said:
There's one comic book I really dig that I want to go after that's bad-ass. I'd like to get it, it's called The Boys. It's about a group of mercenaries and they're job is to kick the shit out of superheroes who get out of line. It doesn't get any better than that. In the world of The Boys, superheroes are scumbags. My youngest brother is a comic book historian and he introduced me to a lot of graphic novels like "The Dark Knight." There are some great books I don't think people have tapped into yet.
Originally published by Wildstorm before moving to Dynamite Entertainment, The Boys is written by Garth Ennis and illustrated by Darick Robertson. Here is an official description from the first graphic novel:
"This is going to hurt! In a world where costumed heroes soar through the sky and masked vigilantes prowl the night, someone's got to make sure the "supes" don't get out of line. And someone will! Billy Butcher, Wee Hughie, Mother's Milk, The Frenchman, and The Female are The Boys: A CIA-backed team of very dangerous people, each one dedicated to the struggle against the most dangerous force on Earth – superpower! Some superheroes have to be watched. Some have to be controlled. And some of them, sometimes, need to be taken out of the picture. That's when you call in The Boys!
The comic is now available in five graphic novels, with the sixth volume due out in May 2010 (find them on Amazon).
Columbia Pictures have an option on the comic, and producer Neal H. Moritz (Fast and the Furious) was developing it into a feature. Matt Manfredi and Phil Hay, the screenwriters of Aeon Flux, The Tuxedo and Crazy/Beautiful, started working on a script in August 2008. We haven't heard anything about the project since.
For those of you who don't know, Bayer got his start directing music videos when Nirvana, according to legend, hired him to direct Smells Like Teen Spirit because his test reel was the worst one that the band had seen. As you know, the resulting video is considered a landmark music video which has consistently rated as one of the most influential music videos ever made. Bayer went on to helm some of the seminal alternative music videos of the 1990's. His music video filmography includes Blind Melon's "No Rain", Candlebox's "You", The Cranberries' "Zombie", Hole "Doll Parts", The Offspring "Gotta Get Away", Metallica's "Until It Sleeps", and Sheryl Crow's "My Favorite Mistake". Over the last decade he's done videos for Blink182, Marilyn Manson, Lenny Kravitz, Aerosmith, Papa Roach, The Strokes and My Chemical Romance. Bayer also directed most of the videos for Green Day's American Idiot album. Bayer won Director of the Year at the MTV Awards in 2005 and 2007, and several of his commercials have won the Clio (which is basically the Academy Awards for advertisements).
His first feature film, a remake of A Nightmare on Elm Street, will hit theaters on April 30th 2010.