Weekend Weirdness: Animal Collective's ODDSAC Premieres In NYC; Chuck Norris Does Actionfest; Actor David Sherrill On The Wraith (And A Sequel?); Melvins Versus The Shining; Stussy's J. Dilla Documentary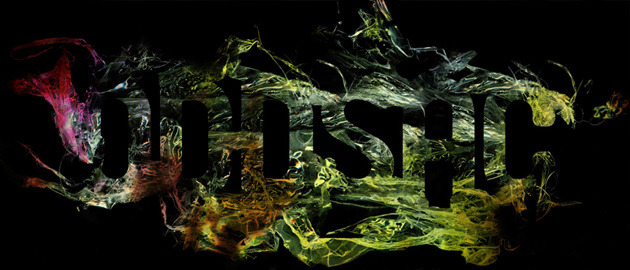 It's a crazy, mixed up world and we are thankful for movies that offer proof. Slashfilm's Weekend Weirdness examines such flicks, whether in the form of a New York premiere for a provocative indie, a mini review or an interview.
Animal Collective's ODDSAC premieres in NYC
On March 2, I downed a couple Bushmills and walked to the fine Visual Arts Theatre in Manhattan for a sold-out screening of ODDSAC.I assume by now most of the column's readers have heard of the abstract release—likely while visiting Pitchfork or encountering a scarf-clad obeyer of Pitchfork—or as it's described in the trailer above, the first "visual album" from Animal Collective and their video director buddy Danny Perez.
Said to have taken four years to complete and running an hour long, ODDSAC has more in common with a postgrad's well-funded idea for a Merry Pranksters acid test-as-nightmare than with the socio-scope of traditional drug films like Alan Parker's The Wall or Ringo Starr's The Magic Christian. On a few occasions, the entire screen became a Rice Krispies-like wigged-out blanket of squirming hot colors—a bit ironic given how many hipsters refer to Avatar as Screensaver: The Movie.
To the film's credit, instead of cuing visuals to last year's hit Merriweather album, Animal Collective created all new music. ODDSAC's first 25 or so minutes are organic and promising—particularly the layered moments incorporating a rocky embankment, evergreen wilderness, and an isolated drummer. But then the film attempts to jar the viewer with gory scenes like one around a bonfire wherein roasted marshmallows turn mouths and faces into sticky goo. The possible homage to Sam Raimi continues with shots of accelerated Evil Dead-like moons and wilderness carnage. The ending bottoms out in a string of loud and devolved antics that conjure a Harmony Korine aper recreating an episode of Monsters. Worth a look but overhyped, I do hope more bands follow Animal Collective's lead/intent and explore non-narrative cinema as a creative outlet and cultural time capsule.
Links: ODDSAC site / ODDSAC Twitter / Visual Arts Theatre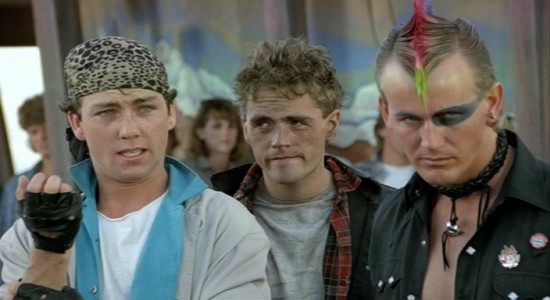 Actor David Sherrill on playing Skank in The Wraith and a possible sequel
A recent installment of Weekend Weirdness reflected on the 1986 cult classic The Wraith and its Special Edition release on DVD. After receiving emails from a number of new and diehard fans, I decided to follow-up with a Q&A with actor David Sherrill, who played the film's memorable punk huffer, Skank, pictured above with the neon faux-hawk.
Hunter Stephenson: Hi Dave. Skank was your first credited role in a theatrical film. The character is one of those great '80s goons whose style appears heavily influenced by bad punk music and L.A. trash. What and where did you pull from to make the character your own?
David Sherrill: I was into to punk rock and the punk lifestyle in the early '80s in Los Angeles, so I had seen a lot of different styles and attitudes. I was a big fan of Alex Cox's Repo Man and especially of Dick Rude who appeared in the film. After reading the script, I felt that Skank was not so much a "punker" as he was a good ol' boy—a gearhead type who liked to look that way because he thought chicks dug it.
The production's hairstylist, Leslie Anderson, and I came up with the colored mohawk and make-up artist, Kathy Logan, added a touch of Alice Cooper and Comanche war paint. The clothing and accessories were purchased in Melrose by costume designer Marylin Vance. That stuff was amazing—I still have some of it. The end result yielded the cow-punk tweaker idiot I was shooting for. I actually wore the leather pocket vest later in an episode of 21 Jump Street.
On the new DVD, the director says The Wraith was a rushed and sometimes strenuous shoot. He also discusses a battle between him and the suits, who wanted to tame down your character. Can you share any memories or opinions on the making of the film?
David Sherrill: Well, I thought [director] Mike Marvin did a great job given the schedule and the scope of such a small budget location film. And he gave each of us a lot of range in which to work. My favorite memories involve  the cast as a whole. We were all fairly young and new to the scene. Everyone hit it off immediately. I distinctly remember all of us on the plane ride from L.A. to [the set in] Tucson...We were seat-hopping and as excited as a group of kids on their first trip to Disneyland.
Another memory is meeting up with Jamie Bozian, who played Gutterboy, so we could get to know one another before the shoot: I show up at his apartment in North Hollywood and he immediately takes me to an old auto junkyard where he just wanted to walk around and "get into the vibe."  When it comes to character development, Jamie leaves no stone unturned. I love that guy.
Cool. Speaking of Gutterboy, the idiotic and chaotic relationship he shares with Skank is similar to and predates Beavis and Butt-Head's. Ever notice this? And in the years since, have you and Jamie reunited or revisited the duo?
David Sherrill: There is obviously a long line of comedic duos, but I think The Wraith definitely had some influence on pop culture through the years, from various films to T.V. commercials. I would like to think Skank and Gutterboy inspired Beavis & Butthead because I love those guys. But in reality, who knows? It could have been part of a bigger '80s trend, remember Bill & Ted? Jamie and I to this day are best friends and he was in my wedding last August. We are actually working on re-writes to a script I wrote for a Wraith sequel. I don't know if it will ever see the light of day but we are having a blast bringing Skank and Gutterboy and all the other characters back to life.
Links: David Sherrill on Facebook / Weekend Weirdness on The Wraith
The Melvins cover "Dies Irae" from The Shining
Since rock titans The Melvins recently announced summer tour dates, why not feature a YouTube vid of them performing "Dies Irae," the opening theme to Stanley Kubrick's The Shining, synced to that respective, serpentine segment of the film? If any commenters are wondering, that was a long rhetorical question.
Links: The Melvins' tour dates/ Melvins' Buzz Osbourne on VBS / "Dies Irae" on Wiki / Stanley Kubrick faked the moon landing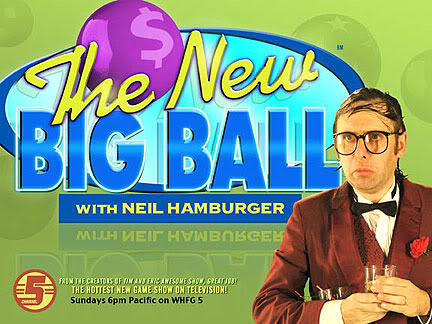 Neil Hamburger's game show needs our help
For a second, it looked as if the pained career of one of our favorite–actually, he fucking sucks—stand-up comedians, Neil Hamburger, had found the green light at the end of the tunnel of our pointless existence. Supported by those generous and ever-popular fellows, Tim and Eric, Hamburger had spent months developing a game show called The New Big Ball for [adult swim]. However, the program was inexplicably scrapped, leaving Hamburger with nothing to do of late except shit on Tim Burton on Twitter and tour with Faith No More in Australia. But there is hope yet. A handful of equally downtrodden fans recently formed a Facebook group to attempt push The New Big Ball up the hill of reality and back into the fake void of the boobtube—where it will promptly curl up with a jug of alcohol and die.
Links: The New Big Ball Charity Group on Facebook / Neil Hamburger on Twitter / Neil Hamburger's terrible interview with Slashfilm
More Links on the Brink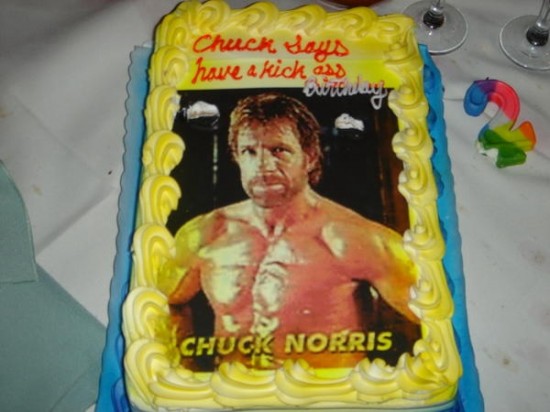 A new film festival for action movies, appropriately called Actionfest, will take place in Asheville, North Carolina on April 15-18.  According to a press release, the festival has dibbs on the world premiere of Neil Marshall's Centurion and will see Chuck Norris arriving in person to scoop up a Lifetime Achievement Award. Dear South, impressive. We placed a collect call to Chuck the Truck from The Foot Fist Way for a comment on the blatant Lifetime Achievement snub, but apparently he's in rehab.
The original youth culture clothiers at Stussy have produced a three-part documentary, available online, about the late hip hop producer and visionary J. Dilla. Part one is above. For more info on the artist: Stones Throw Records
For previous installments of Weekend Weirdness, here.
Hunter Stephenson can be reached on Twitter. If you'd like to send him a screener, or a screening invitation: h.attila/gmail.