Arthur Remake Nabs Director: Modern Family Producer Jason Winer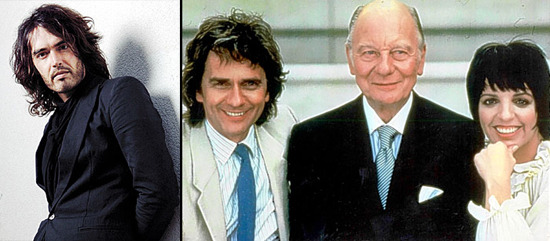 I'm not sure what your reaction was upon hearing that Arthur, the 'classic' '80s tale of class, alcoholism and romance starring Dudley Moore and Liza Minelli, was being remade. Mine was something along the lines of "...why?"
The charismatic and free-spirited Russell Brand is taking on the role of a wealthy drunk staring down the barrel of an arranged marriage, and that might work. Now the film has a director: Jason Winer, who exec produces and directs many episodes of the show Modern Family.
Peter Baynham, who works with Sacha Baron Cohen (he was a story writer on Borat and Bruno) is writing the script. Hopefully his instincts will offset the sensibility I get from Winer, whose Modern Family is like Arrested Development shorn of comedy and memorable characters. I have a difficult time even sitting through clips of the show, much less full episodes. Will he and Baynham feature exchanges in this remake like the one in the original where a hooker tells Arthur she was raped by her father at age 12, leading him to quip, "yeah, listen, my father screwed me, too"? Should they?
While Brand will probably make a more convincing drunk than did Moore, the real star of the original film was Sir John Gielgud, and there's a rumor that Meryl Streep will play his role. Can she bring the proper gravitas to a line like, "perhaps you'd like me to come in there and wash your dick for you, you little shit?" Why yes, I think she could. For a moment. But it won't be as natural and devastating as Gielgud's every utterance. And without being able to direct some scorn at Paul Gleason, this movie will be nothing. Nothing!
The big question now is: how will this remake come up with a theme song that can possibly top 'Best that You Can Do', by Christopher Cross and Burt Bachrach? I've embedded the original song below, because now that I hear it in my head, I want to share the pain with you all. The look on Moore's face throughout this clip is pure gold.