Don't Expect A James Cameron Hiroshima Film Soon, As Publication Of The Source Book Is Halted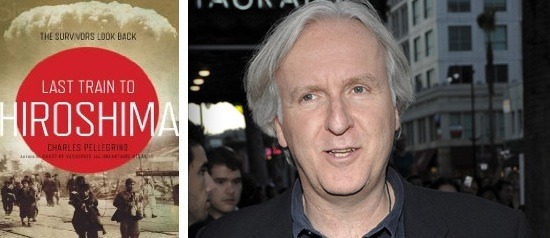 There was some news recently that James Cameron might be producing or even potentially directing a film about Hiroshima. He'd optioned a book called The Last Train From Hiroshima, by Charles Pellegrino, a friend of the director.
Now publication of the book is being halted, because publisher Henry Holt and Company "was not able to answer" questions about the veracity of some of Pellegrino's facts. Some of the people mentioned in the purportedly factual book may not exist. Oops! Probably won't see a movie from Cameron any time soon.
Yahoo reports that the publisher released a statement that says, "It is with deep regret that Henry Holt and Company announces that we will not print, correct or ship copies of Charles Pellegrino's `The Last Train from Hiroshima."
A week ago, Pellegrino admitted that one person he interviewed had made false claims about being on one of the planes that flew with the Enola Gay, which dropped the bomb on Hiroshima. Now the existence of two other men mentioned in the book, Father Mattias and John MacQuitty, cannot be verified.
In fact, Pellegrino's own cred is being examined. Victoria University of Wellington, New Zealand, from which he claims to have earned a PhD, says it has no proof that he earned a degree.
The association between Cameron and Pellegrino goes back a long way. The director wrote the introduction for Pellegrino's Ghosts of the Titanic, provided a blurb for this book, and hired Pellegrino as an advisor on Avatar. Cameron also wrote the introduction for The Jesus Family Tomb, the embarrassing book co-authored by Pellegrino that purported to document the discovery of a tomb containing the remains of Jesus. I don't imagine we'll hear much, if anything from Cameron on this particular development.
(And yes, the image above has the book title as Last Train to Hiroshima — it was changed at some point.)