VOTD: 50 Movie Spoilers Of 2009 In 4 Minutes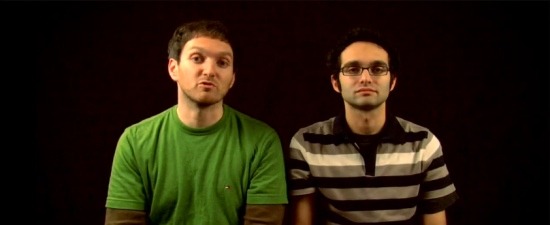 The Fine Brothers love to spoil everything, In past years, we've featured their popular videos 100 Movie Spoilers in 4 minutes and Spoiling Every Best Picture Winner in Oscar History. After seeing all of the big movies of 2009, the brothers are back once again.  Their latest video spoils 50 movies released last year (including all ten best picture nominees) in one take, in under 4 minutes. Watch the video now, after the jump.
And if it isn't completely obvious already, please be warned that the following video contains spoilers.
Movies spoiled: District 9, Up, Up in the Air, Inglorious Basterds, Precious, A Serious Man, An Education, The Blind Side, Avatar, The Hurt Locker, Transformers 2: Revenge of the Fallen, Hannah Montana The Movie, New Moon, The Hangover, Star Trek, A Perfect Getaway, Sorority Row, Whiteout, My Bloody Valentine, GI Joe: The Rise of Cobra, Sherlock Holmes, The Princess and the Frog, Coraline, Fantastic Mr. Fox, 9, Nine, Public Enemies, Invictus, Amelia, Julie and Julia, This Is It, Watchmen, Paranormal Activity, Confessions of a Shopaholic, Adventureland, Crazyheart, Whatever Works. He's Just Not That Into You, (500) Days of Summer, Orphan, The Messenger, Brothers, Paul Blart: Mall Cop, The Lovely Bones, Thirst, Moon, Zombieland, Jennifer's Body, The Taking of Pelham 123, and Harry Potter and the Half Blood Prince.