Liev Schreiber Wants To Play The Boxer Who Inspired Rocky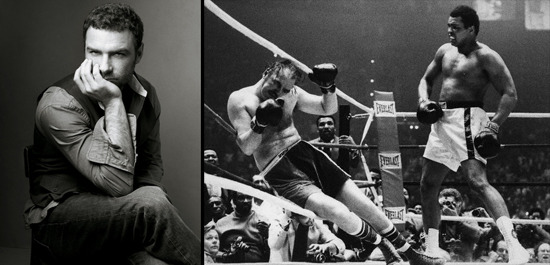 Liev Schreiber is ready to fight. He's got his eye on a biopic of Chuck "The Bayonne Bleeder" Wepner, a heavyweight boxer from New Jersey who has been said to be the inspiration behind Sylvester Stallone's Rocky. (Let's not have any grumbling that a Philly icon like Rocky may be based on a guy from Jersey.) The actor calls Wepner's story hilarious and remarkable, and would like to make it his next picture. MTV spoke with Schreiber, who says he's already got a director set up: Jeff Feuerzeig, who directed the doc The Devil and Daniel Johnston. (Much of Feuerzeig's film work to date has been in music-based docs, with subjects that include Johnston, Jon Hendricks and the band Half Japanese.) Neat choice, that.
Wepner's story is certainly notable thanks to a bout with Muhammad Ali. The champ wanted an easy fight, and Wepner signed on for the biggest payday of his career and a change to go toe to toe with one of the greats. Amazingly, he stayed on his feet through 15 rounds, only being taken down in a TKO seconds before the end of the fight. Ali said of Wepner, "There's not another human being in the world that can go 15 rounds like that." (Time has a great write-up on the fight, published in April of '75.)
That fight is reportedly what inspired Sylvester Stallone to write Rocky, and you can see why a direct cinematic version of the bout would make for great cinema. There's already one notable boxing movie coming soon — The Fighter, directed by David O. Russell, based on the life of "Irish" Mickey Ward — but this sounds like it could be a completely different beast. But 'hilarious', as Schreiber said? Interesting. I wouldn't want to see Wepner's life parodied, so hopefully he's got something else in mind.