Taylor Lautner Skips Out On Max Steel In Favor Of Stretch Armstrong; Rob Letterman May Direct Stretch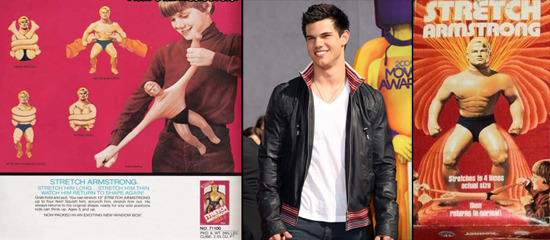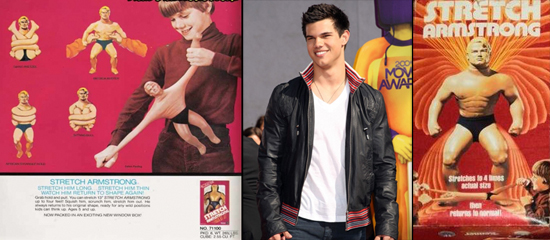 Taylor Lautner's business people have been great about attaching him to a series of films in the wake of New Moon's outrageous success. The sum total of all the efforts has been to push his level of exposure and price tag higher and higher. But something had to give, and while it seemed like Lautner would be able to make several of the films he was attached to, a few are gradually falling away. He won't do the 'junior Top Gun' film Northern Lights, for one. The latest is Max Steel, which has been dumped in favor of Stretch Armstrong.
Vulture has the details on the move, and suggests that it wasn't just Lautner's increasingly crowded schedule that caused him to bail on the film, but a difference in efficiency between Hasbro and Mattel. Basically, Hasbro, which is behind Stretch Armstrong, has been making moves and pushing movies forward (Transformers, G.I. Joe, Battleship, CandyLand and Risk) while Mattel, despite being a more dominant toy company, hasn't.
While Ron Howard was rumored to be a possible Stretch Armstrong director, according to the LA Times it is now looking like Monsters vs. Aliens co-director Rob Letterman, who has just finished Gulliver's Travels with Jack Black, may helm the picture. Just after Lautner was cast, the release date for Stretch Armstrong was pushed back from spring 2011 to spring 2012, in part to make sure the actor had time to do it, and in part to make the film in proper 3D. Letterman has 3D experience, having made Monsters vs. Aliens in the format.
None of which really changes my level of interest in Stretch Armstrong; so far it seems like it's going to be a kids' movie with a massively outsized budget. The only thing that seems like an interesting angle on the film is if it were to become a semi-comedic, self-aware thing. Give me Taylor Lautner in something like Small Soldiers and I might bite.