TV News: Vote For Totally 4 Teens To Become A New Adult Swim Show (A /Film Fave!)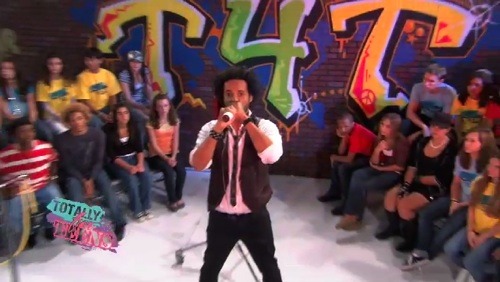 Almost a year ago, we pined over the freakishly original, disorienting and bizarre trailer for Totally 4 Teens, a proposed series for [adult swim] that appropriated the zany format of a vintage Nickelodeon kid's show and then aspired to melt viewers' faces off.  You may remember that we recently interviewed the show's creator and frizzy-haired host, Derrick Beckles, about his psychedelic workout tape and a music video he directed starring fresh-faced pal and fan Michael Cera.
Well since that time, the last we heard about Totally 4 Teens was that [adult swim] didn't know what to do with it, and that other cable networks were interested. We love [adult swim] and practically inject Tim and Eric and Superjail into our morning cereal, but the idea that we would never see T4T (not to mention Neil Hamburger's filthy ode to Family Feud) on the infamous programming block put pollen in our manly eyes. I mean, other visionairies behind T4T include a guy who produced The Daily Show and the weirdo who is the voice of Towelie on South Park and created Wonder Showzen.
But wait. There is hope yet. We can all vote for Totally 4 Teens—today and today only—to become a reality on the regular. Better still, the show has flirted with putting two members of the /Film staff on the program if it wins the entire contest! (If it wins today, it goes on to the quarter-finals and so forth, just like in sports.) You can go to the official voting site, where you can watch the full pilot episode, and place your vote! Check out the full trailer and a clip after the jump...