Nicolas Cage And Ryan Reynolds In DreamWorks Animation's Caveman Comedy The Croods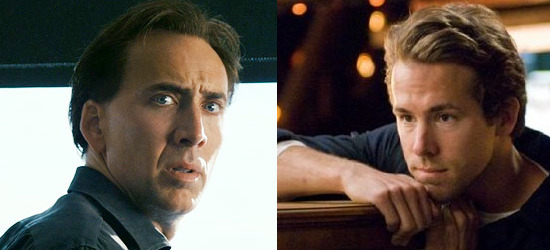 Nicolas Cage and Ryan Reynolds in will headline the voice cast for DreamWorks Animation's 3D computer animated film The Croods. Lilo & Stich helmer Chris Sanders and Space Chimps helmer Kirk DeMicco are co-directing the caveman comedy, which was formerly titled Crood Awakenings when it was set up with Aardman Animation.
The official plot synopsis follows:
"An old school caveman must lead his family across a volatile prehistoric landscape in search of a new home. The outsized flora and fauna are challenge enough, but the real complication arises when the family is joined by an alarmingly modern caveman whose search for "tomorrow" is at odds with our hero's reliance on the traditions of yesterday."
Cage will voice the prehistoric patriarch named Crug, while Reynolds will voice the forward-thinking outsider nomad who charms Crug's family, especially his eldest daughter, a role yet to be cast. Kiefer Sutherland, Arnold Schwarzenegger, Brad Pitt, Adam Sandler, Christina Milan, Catherine Zeta-Jones and John Cleese were all rumored to be part of the voice cast when the project was still being developed at Aardman Animation. It is unclear if any of them are still involved.
Sanders has described the project as: "The idea of having all the modern conveniences and social structures that we're familiar with gone and being left with just a pure form of people was really fun to imagine working with." The Croods is now set to hit theaters on March 30th 2012.
source: Variety