This Week In DVD & Blu-Ray: The Informant!, The Box, The Damned United, Dead Snow, And More
We may receive a commission on purchases made from links.
This Week in DVD & Blu-ray is a column that compiles all the latest info regarding new DVD and Blu-ray releases, sales, and exclusive deals from stores including Target, Best Buy and Fry's.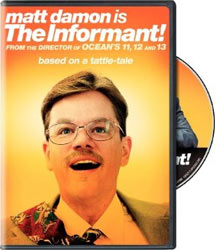 THE INFORMANT!
The true tale at the core of The Informant! is not one that would appear to lend itself very well to comedy, and yet in taking that approach, director Steven Soderbergh managed to craft a sly, unusual little satire that both amuses and perplexes in all the right ways. Soderbergh's interests appear to lie less in the lysine price-fixing conspiracy that the story revolves around than in the peculiar actions of high-ranking executive Mark Whitacre, presenting an ever-evolving portrait of a goofy, naïve, affable and possibly deranged whistleblower. Viewers will likely feel uneasy at the way the film is presented from Whitacre's perspective, providing endless stream-of-consciousness anecdotes about corn, polar bears and '90s corporate thrillers, and yet never giving you a strong sense of what his motives are or what exactly he's trying to accomplish. The longer the film moves forward though, the more it becomes clear that that's exactly the point; not even Whitacre is sure why he does the things he does, and it isn't until he runs out of lies to tell that he stops running his mouth long enough to let that notion dawn on him. Matt Damon's hilarious, Oscar-deserving performance conveys these facets of Whitacre perfectly, and in doing so, assists Soderbergh in the creation of one of recent cinema's most fascinating, oddball characters.
Available on Blu-ray? Yes.
Notable Extras: DVD – Deleted scenes. Blu-ray – Includes everything on the DVD, as well as a commentary with director Steven Soderbergh and screenwriter Scott Burns, and a digital copy of the film.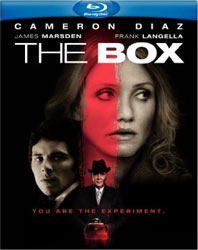 THE BOX
Richard Kelly is a mighty talented filmmaker and storyteller; his Achilles' heel is his unwillingness to show any restraint. The project is ambitious, unquestionably, but more often than not, Kelly's ambition exceeds his grasp, resulting in a narrative that feels disjointed and slightly incoherent. (Think of it like LOST, if you were to condense three seasons worth of mythology into two hours.) Even so, it's always engaging, and the intriguing weirdness of it reaches such a radical high that I almost find myself forgiving its prominent flaws simply because I'm grateful that the movie even exists. A studio seriously financed this? As far as I'm concerned, that earns Kelly a much deserved fist pump.
Available on Blu-ray? Yes.
Notable Extras: DVD – A "Richard Matheson: In His Own Words – An Intimate Interview with a Sci-Fi Legend" featurette. Blu-ray – Includes everything on the DVD, as well as a commentary by director Richard Kelly, featurettes ("The Box: Grounded in Reality", "Visual Effects Revealed"), a Music Video Prequels feature, a digital copy, and a copy of the standard DVD.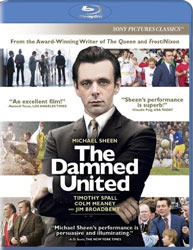 THE DAMNED UNITED
I'm often peeved by sports films attempting to aggrandize modest true stories into cinematic spectacles, but The Damned United (a fictionalized account of the rise-and-fall of English football manager Brian Clough) may just be the first to do the opposite. The film starts strong and ends with a fizzle, and as initially forgiving as I was of the lackluster resolution—it's not as though I expect the filmmakers to invent major historical events, after all—it then proceeds to pour salt on the wounds by sending its viewers off with a curt summation of what could've been the film's perfect, redemptive third act. I would imagine that this is a result of the film staying true to the novel from which it's adapted, but with a runtime of only 90 minutes, it's puzzling to me why the story wasn't expanded to incorporate these pivotal historical developments. Overlooking this, The Damned United is otherwise a very respectable, engaging character piece. It's not so much about the game as it is one man's ambition, obsession, and destructive egocentricity, and Michael Sheen's magnetic performance ensures that the tale is never less than riveting.
Available on Blu-ray? Yes.
Notable Extras: DVD & Blu-ray – A commentary with director Tom Hooper, actor Michael Sheen and producer Andy Harries, Deleted Scenes, Cloughisms, and featurettes ("Perfect Pitch: The Making Of The Damned United", "Creating Clough: Michael Sheen Takes on 'Old Big 'Ead'", "Remembering Brian", "The Changing Game: Football in the Seventies").
SORORITY ROW
Sorority Row knows exactly what is, and what you want to see. You're not watching it because you can sympathize with and relate to its cohort of catty skanks; you're watching it because you hate them, and are eager to bear witness to their violent demise. And for better or worse, that's what Sorority Row delivers. While it adheres way too closely to formula to satisfy in any way beyond what was offered by the recent Friday the 13th remake (grisly violence + boobs), sometimes that's all you need—a trashy, dumb 'B' slasher flick. It may not be high art, but the film is stylishly shot, has a number of inventive kills (one of which gives new meaning to the term "deep throat"), and a malicious sense of humor that contrasts nicely against the film's otherwise serious tone. Genre fans may enjoy it.
Available on Blu-ray? Yes.
Notable Extras: DVD & Blu-ray – Sorority Secrets: Stories from the Set, Killer 101, Kill Switch, Deleted Scenes, and Outtakes.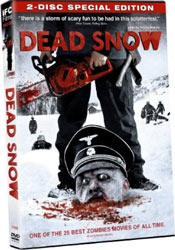 DEAD SNOW
A splatterific third act just barely manages to bump up the film to being rental-worthy, but by and large, Dead Snow's two-word premise—Nazi Zombies!—promises a far more enjoyable film than the one that's delivered. It's a movie seemingly intentionally composed entirely of horror movie clichés, a decision which could be put to good use were it meant to enhance the film in any way (comedically or otherwise), but mostly it feels lazy and derivative. The filmmakers appear satisfied with merely mentioning other B-horror cult classics, as if that and the premise were enough to earn the film equal recognition. Granted, there are a few admittedly hilarious scenarios late in the film, such as a cliff-hanger moment featuring a less-than-reliable support rope. Even then though, the bland, sloppy execution makes it somewhat of a struggle to wring any joy out of the experience. Unless you're truly desperate to see Nazi zombies in action, it's probably best not to spoil the idea of this movie that you have in your head with the one that actually exists.
Available on Blu-ray? Yes.
Notable Extras: DVD & Blu-ray – Featurettes ("Behind Dead Snow", "Special Make-Up Effects of Dead Snow", "VFX", "The Sounds of Dead Snow", "Burning the Cabin"), and outtakes.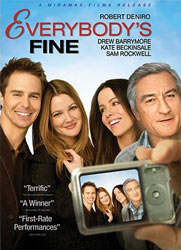 EVERYBODY'S FINE
Banal conflicts and predictable moments of emotional uplift are pleasantly offset by Robert De Niro's charming performance in Everybody's Fine, a film that seems to be tailor-made for senior citizens who enjoy sweet movies, and fear being surprised by unexpected plot developments.
Available on Blu-ray? No.
Notable Extras: Deleted & Extended Scenes, and The Making of Paul McCartney's "(I Want To) Come Home".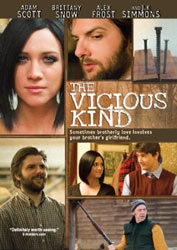 THE VICIOUS KIND
Adam Scott is quickly becoming one of my favorite actors. Between his hilarious performance as Will Ferrell's Dane Cook-loving douchenozzle brother in Step Brothers and his lovably apathetic "Are we having fun yet?" nice guy role in Party Down, I've grown eager to check out any and all of his future projects. Looks like I lucked out with this one, because not only is this Scott's best work yet, offering countless opportunities for him to show off his dramatic range while simultaneously belittling his character's friends & family with constant caustic quips, but the movie is damn good as well. The film premiered at Sundance last year, and although it may seem like your typical quirky drama—one which evokes exactly the somber, reflective tone that you'd expect from a Sundance indie—it has an underlying current of acerbic comedy that both punches up the entertainment value and forms a more intriguing dynamic between the characters. The writing in particular is tops, examining the differing lines between what people say, what people feel, and what they do—and how the three rarely ever align. This is definitely one of the more intensely engaging dramas I've had the pleasure of sitting through recently.
Available on Blu-ray? No.
Notable Extras: Commentaries by director Lee Toland Krieger and actor Adam Scott, a making-of documentary, and Deleted & Extended Scenes.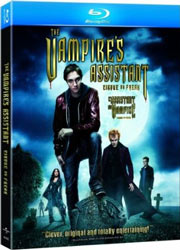 CIRQUE DU FREAK: THE VAMPIRE'S ASSISTANT
While not devoid of merit, Cirque du Freak: The Vampire's Assistant fails to do any one thing well enough to justify the 110-minute commitment. I dug the '80s vibe that the film was going for, but the dull characters and awkwardly paced story killed any of my interest beyond that.
Available on Blu-ray? Yes.
Notable Extras: DVD – 2 featurettes ("Guide to Becoming a Vampire", "Tour du Freak"). Blu-ray – Includes everything on the DVD, as well as Picture in Picture features.
Other noteworthy DVD (and Blu-ray) releases this week...
The September Issue – Nurse Jackie (Season 1) [DVD / Blu-ray] – Flame & Citron – $9.99 – Trailer Park Boys: Countdown to Liquor Day [DVD / Blu-ray] – Justice League: Crisis on Two Earths [2-Disc DVD / Blu-ray] – Superjail! (Season 1) – Make Way for Tomorrow (Criterion Edition) – Motherhood [DVD / Blu-ray] – Shall We Kiss? – Captain Abu Raed – Bliss – Crude – The End of the Line – Examined Life
Noteworthy Blu-ray-specific releases this week...
The Crazies – Ichi the Killer – Poultrygeist: Night of the Chicken Dead

NOTES: Some deals may be in-store only. All deals are for DVDs unless otherwise noted.

Exclusive: Bonus Disc with purchase of Justice League: Crisis on Two Earths.
$12.99 – Blu-ray sale: (500) Days of Summer, Jennifer's Body, Night at the Museum: Battle of the Smithsonian, and more...
$17.99 – Blu-ray sale: Up, Cloudy with a Chance of Meatballs, Law Abiding Citizen, Inglourious Basterds, District 9, Star Trek, The Godfather, The Godfather: Part II, Transformers: Revenge of the Fallen

Exclusive: 3" Owlman figurine with purchase of 2-Disc DVD and Blu-ray of Justice League: Crisis on Two Earths.
Exclusive: Free movie ticket to Alice in Wonderland with purchase of $9.99 DVDs: Tron, Pirates of the Caribbean: At World's End, and other eligible titles in store.
$15.99 – Entourage (Season 5)
$16.99 – Supernatural (Season 4), Smallville (Season 8)
$19.99 – The Shield (Season 7), Scrubs (Season 8)
$24.99 – Dexter (Season 3), It's Always Sunny in Philadelphia (Season 4)
$29.99 – The Office (Season 5)
$34.99 – House (Season 5), Heroes (Season 3)
$39.99 – LOST (Season 5)