Shane Black To Direct Doc Savage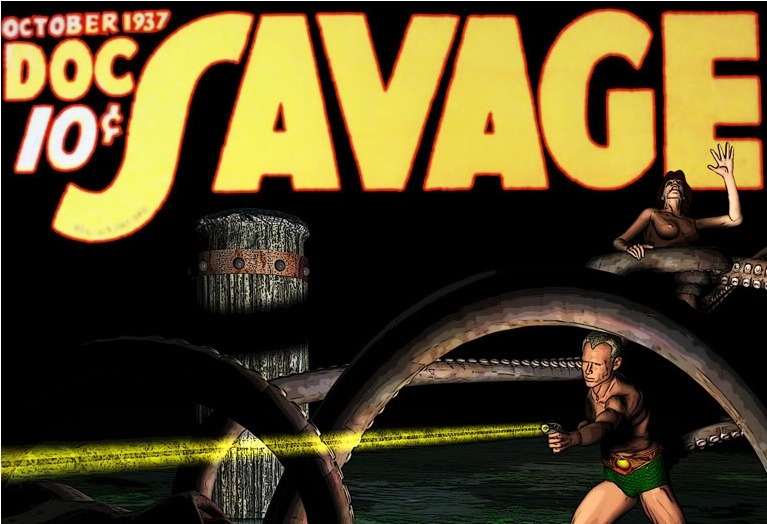 Sony has hired Shane Black to bring pulp hero Doc Savage back to the big screen.
I've been waiting for Black to step back into the director's chair for five years now. His feature directorial debut, Kiss Kiss Bang Bang, is one of my favorite films of the past decade, mostly due to Black's incredible script and partly due to Robert Downey Jr's awesome pre-Iron Man comedic performance. Black is considered one of the pioneer screenwriters of the action genre, and was the highest paid screenwriter in the late 1980's/early 1990's. He broke onto the scene with Lethal Weapon, followed by The Monster Squad, The Last Boy Scout, Last Action Hero (re-write), and The Long Kiss Goodnight.
While I'm excited to see Black behind the camera, I am skeptical of him helming a film which he didn't personally write. The screenplay was written by Anthony Bagarozzi and Chuck Mondry. Neal Moritz (Fast and Furious) is producing the project, which likely means that one of the cast members will be played by a rap artist (I'm only half joking).
Previously:
Since his first appearances in '30s pulp magazines, the Savage character has appeared, a la The Shadow, in myriad mediums, including radio, women's poolside fantasies, television and a maligned 1975 film. Black has plenty to work with, as the dude can do it all and sometimes blindfolded: "physician, surgeon, scientist, adventurer, inventor, explorer, researcher, and, a musician." And..."martial arts master." In canon, Savage was raised from birth to fight evil and resides in a skyscraper not unlike the Empire State Building and keeps a plush hideout in the Arctic. He's the complete opposite of the so-called Goblin class that will likely be exposed to his bare, bronze chest. [Hunter]
Late last year, it was reported that Black was writing a new adaptation of Savage for the tentpole production duo Roberto Orci and Alex Kurtzman (Transformers and Star Trek franchises). It is unclear if that version was dumped completely or transfered over to Sony with new screenwriters (and if that is the case, it doesn't make much sense).
Black let it be known to AICN that he was looking to the definitive works of late author Lester Dent, who penned nearly 200 adventure novels using the character, and that his version would be a period piece. It was also revealed that Savage was to be joined in the film by the so-called Fabulous Five.
source: Variety