Early Buzz: Your Highness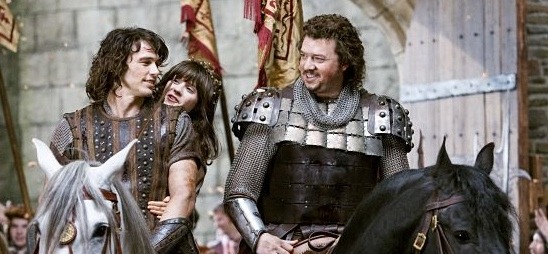 It looks like they have begun to test screen David Gordon Green's new comedy Your Highness, starring Danny McBride, James Franco, Natalie Portman and Zooey Deschanel. After the jump you can find a round up of comments from IMDb, Twitter and other sources, from TEN people who claim to have attended the recent test screening in Burbank on February 18th 2010.
Context: Your Highness won't hit theaters until October 2010, so I assume that that it is a very early cut of the film without final cuts, sound mix or score. Nothing changes more in the editing process than a comedy. A lot could change between now and the time of release, they might even do some reshoots. Who knows. Just wanted to add a bit of context.
Candice Smith writes on HorsesonFilm33:
The dialogue was great and very funny, and the actors fit their parts perfect. The film is hilarious, but other then it being it hilarious, the horses were breathtaking in it. Tons of different breeds and colors. James Franco enters the movie on a gorgeous grey Andalusian. So beautiful and majestic, with his forelock draped in his face, he really fit the part. In the beginning scene Franco rides into the castle along with his knights. One of his knights played by Damian Lewis, who is a pretty big TV actor, rides in on a very angelic Black Friesian. This guy was a very thick Friesian, who had to be a stud due to the size of his body and neck. I thought this was a weird touch of film choice of horses for the two actors, because the Friesain towered over the Andalusian. But this was a comedy and James Franco played a very goofy guy.
The movie had some huge carriage scenes, but my favorite is an exquisite 4-up team of Freisians. It really took my breath away when they entered the frame. Later in the movie Damian rides his black Friesian through the woods after a 2-up team of Friesains galloping pull a very large carriage. How this horse moved was really refined and graceful. I could watched the whole movie over and over again if it was that horse gliding through the woods like he did in that scene. Considering the movie was a real comedic mocking of the medieval times, it did some real justice to the steeds. I was thoroughly impressed!
andrew-1512 writes on IMDb:
I just saw a screening of this movie in Burbank. its was hilarious especially since some of the cg effects and weren't done yet, and in some scenes the ropes attached to the actors where still visible. but enough of that. i fully enjoyed this movie and plan to see it again, the timing and pacing of the movie was excellent the jokes where witty except for a few super dirty scenes. but when it comes out i am going see it again. i give it a 8/10
Thebatsam writes on IMDb:
I saw a test screening the other day of this and it is most definitely R rated. Very vulgar, lots of nudity and very, very funny. The acting was fine, lots of respectable actors (Toby Jones, Damian Lewis, Charles Dance) and Natalie Portman is great because she takes it very seriously, she has hilarious lines but says them with complete seriousness and passion, it worked great.
S_IsFestive writes on Twitter:
"its like pineapple express meets medieval times." ... "SOOO funny. you have to see it when it actually comes out."
Wolfstaaah writes on Twitter the the film was:
"funny, nasty and lots of nakedness"
STEFCON_1 writes on Twitter:
"Just screened Your Highness – I have 8th grd boy humor & enjoyed this modern R-rated Princess Bride"
girlnamedcaptn writes on twitter:
"Your Highness is the worst fucking movie I have seen in a long time, possibly ever. Avoid."
ryanmcdmusic wrote on Twitter:
"Just saw a preview of "your highness". Pretty medievally hilarious...should definitely go see it when it comes in about...6 months"
And Anonymous writes in the Playlist comments:
Saw Your Highness at a test screening last week. Very funny and captures the tone & art direction of films such as Krull, Yor, and The Sword and The Sorceror perfectly.And Portman was hilarious.
And a Tumblr blog claims a riot broke out among the college kids attending the screening:
On February 18, 2009, just before a preview screening of the film in Burbank, CA, a riot of college students broke out in reaction to over-protective anti-piracy measures of security guards. Many were denied entry and cried for a boycott of the picture
The Official Plot Synopsis:
Throughout history, tales of chivalry have burnished the legends of brave, handsome knights who rescue fair damsels, slay dragons and conquer evil. But behind many a hero is a good-for-nothing younger brother trying just to stay out of the way of those dragons, evil and trouble in general. Danny McBride and James Franco team up for an epic comedy adventure set in a fantastical world–Your Highness. As two princes on a daring mission to save their land, they must rescue the heir apparent's fiancée before their kingdom is destroyed.
Thadeous (McBride) has spent his life watching his perfect older brother Fabious (Franco) embark upon valiant journeys and win the hearts of his people. Tired of being passed over for adventure, adoration and the throne, he's settled for a life of wizard's weed, hard booze and easy maidens. But when Fabious' bride-to-be, Belladonna (Zooey Deschanel), gets kidnapped by the evil wizard Leezar (Justin Theroux), the king gives his deadbeat son an ultimatum: Man up and help rescue her or get cut off.
Half-assedly embarking upon his first quest, Thadeous joins Fabious to trek across the perilous outlands and free the princess. Joined by Isabel (Natalie Portman)–an elusive warrior with a dangerous agenda of her own–the brothers must vanquish horrific creatures and traitorous knights before they can reach Belladonna. If Thadeous can find his inner hero, he can help his brother prevent the destruction of his land. Stay a slacker, and not only does he die a coward, he gets front row seats to the dawn of an all-new Dark Ages.