Watch David Cross, Spike Jonze And Will Arnett In The Increasingly Poor Decisions Of Todd Margaret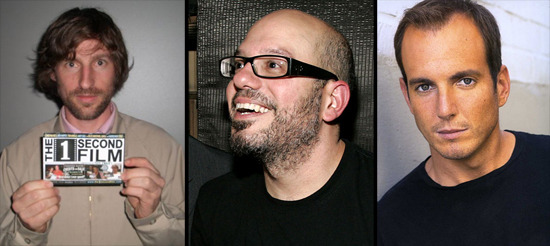 Since it was first announced I've been pretty thrilled for The Increasingly Poor Decisions of Todd Margaret. The UK show stars David Cross as a doltish American sent to London to head up the promotions for an energy drink. He makes what might be called his best effort, but things go...poorly. The show is UK only for now, but thanks to the miracle of YouTube you can watch the first episode below.
This first episode is a bit uneven, as there's a chunk in the middle that doesn't quite get off the ground, but the first few minutes are killer. Corporate culture satire, a vulgar Will Arnett, henpecked Spike Jonze, a hot cafe owner and the bomb squad, all in about give minutes? Perfect.
Here's a plot refresher:
US comedian David Cross plays Todd Margaret, a hapless office drone who flukes his way into a top management job heading up the British division of a US multinational. All he has to do is sell a dozen container loads of dodgy Korean energy drinks before his psychotic boss, played by Will Arnett, visits in a week's time. It doesn't help that he knows nothing about the UK or selling things. What's more, he only has one very unhelpful employee, played by Russell Tovey, to assist him. Needless to say, it doesn't go well and Todd's spectacular failure to impress beautiful café owner Alice, played by Sharon Horgan, only makes things worse.
Once Todd Margaret actually tries to put his non-existent sales tactics to work you'll either die laughing or just crawl into a corner to die. "Unbelievably tasty, unbelievably good, goes down like a syrup sandwich!" But let it be said that Russell Tovey's advice should probably not be taken in any situation, ever. At least when he's playing this character.
Here's the first episode on three parts. Check it out now while the embeds last. Due to some excessive (and occasionally funny) profanity, this is likely NSFW. [via Vulture]