Celebrated Animators The Quay Brothers Return With A New Feature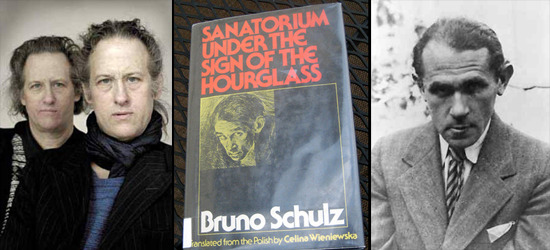 The twin animators Stephen and Timothy Quay made their name based on a stunning set of short films such as The Cabinet of Jan Svankmajer and Street of Crocodiles. The latter was based on the short story collection of the same name by Polish author Bruno Schulz. Now the Quay Brothers are embarking upon the production of their third feature film, which will be based upon Schulz's other published work: Sanatorium Under the Sign of the Hourglass.
Twitch reports on the film with a synopsis, which I've pasted below. The film will be a mixture of live action and animation, as has been the case for their previous features. (Institute Benjamenta and The Piano Tuner of Earthquakes.) This sounds like it might be more of a 50/50 split between the two formats than has been the case before.
Schulz, by the way, is a great writer with a tragically tiny collection of published work. He lived in a small town and his primary communication with the outside world was through letters, through which he honed his writing. A set of his letters to the novelist Zofia Nalkowska was published, at her insistence, as The Cinnamon Shops, later translated into English under the title The Street of Crocodiles.
Schulz was living in Soviet-occupied Drohobycz when WWII broke out. He was confined to the ghetto there, and was shot and killed by an SS officer in 1942. Most of his unpublished work was subsequently lost, leaving only two collections of stories (Crocodiles and Sanatorium) and some letters and drawings. His prose is wonderful stuff, a bit florid in translation, but amazingly vivid and full of unexpected imagery. He writes about family and unique niches in time, both of which you'll see referenced below.
The proposed film is a homage and adaptation of Bruno Schulz s novella: SANATORIUM UNDER THE SIGN OF THE HOURGLASS  and will be set squarely within the enigmatic realm of a ghostly Sanatorium and a 13th freak month. The main subject of the narrative is a journey through a somnambulistic world by the son, Jozef, to visit his purportedly dying Father in a Sanatorium. Once there, Jozef reports on the confusions and horrors of this ever shifting Limbo. Little by little the tissues of reality loosen around Jozef; he becomes subject to a different clock and to the peculiar experiments with Time presided over by a mysterious Dr. Gotard[and a ventriloquizing Auctioneer]: "......here, we are always late by a certain interval of time of which we cannot define the length. Your Father 's death, the death that has already struck him in your country, has not yet occurred. ". This certain interval  will give rise to the eerie phantasmatic ir-reality of the Sanatorium as a result of the contamination and rapid decomposition of time. Through these morphined  and labyrinthine corridors Jozef will vainly pursue and hunt for his Father, or rather, versions of his Father. A Father seen in different guises: incorrigible fantasist, shop owner, the lonely hero who becomes prey to the aberrations of this realm. Jozef will always arrive too late to discover only the fading ghostlike husk of his Father' s being- a mere hand gripped to a stairway door [and to the repeated sound of his feeble coughs].  The Sanatorium's corridors will multiply and double, sometimes as rooms, sometimes becoming streets which give onto town squares and will perpetrate corporeal and psychic memories upon these spaces[both Jozef's, his Father, and that of others, all overlapping].Thus, no centre will ever be reached. Within the Sanatorium's labyrinthine corridors parallel tracks of time,- represented by both a live-action realm and a puppet/object realm [each one secretly mirroring the other] will be traversed simultaneously.