Casting Notes: Owen Wilson Works With Woody Allen; New Projects For Ethan Hawke, Kristin Scott Thomas And Kevin Bacon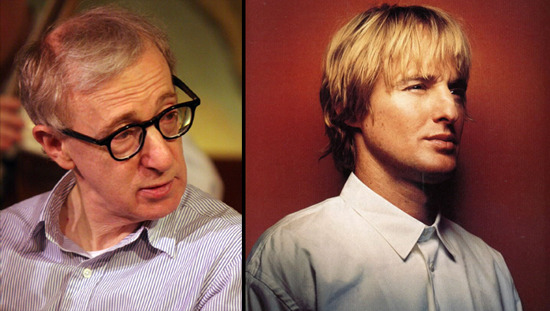 Owen Wilson is often thought of in light of his broad comedies, but he's not stuck doing silly stuff. There's his long association with Wes Anderson, a project currently in the works with James L. Brooks, and now Wilson has signed on to be in Woody Allen's next movie. We don't yet know what the film is called or whether it is a drama, a comedy or something in between. We know that Carla Bruni may have a role, and not much else.
Meanwhile, Allen's next movie is You Will Meet a Tall Dark Stranger, which stars Antonio Banderas, Josh Brolin, Anthony Hopkins, Naomi Watts, Gemma Jones, Freida Pinto and Lucy Punch and opens in September. [THR]
After the break, Ethan Hawke and Kristen Scott Thomas go to Paris, and Kevin Bacon goes to Thailand.
Ethan Hawke and Kristin Scott Thomas have been cast in The Woman in the Fifth, based on the novel by Douglas Kennedy. Hawke will be "an American who has fled to Paris in the wake of a scandal that cost him his job as a film lecturer at a small university. He takes up with a widow," and strange, dark forces begin to bear upon his life. (The widow lives in the fifth arrondissment, hence the title.)
The description of the book leads me to envision a film that might have once been directed by Polanski — it's that combination of romance, paranoia and violence. A different Polish director, Pawel Pawlikowski (My Summer of Love, Last Resort), will helm. [Variety]
Finally, Kevin Bacon has been added to the cast of Elephant White, which is to be the first English-language film from original Ong Bak director Prachya Pinkaew. He'll join Djimon Hounsou, who plays a mercenary  in Thailand whose life is changed by an encounter with a 14-year old girl. I know the film takes place in Thailand, but I don't think it's that kind of encounter. Bacon will be "an old acquaintance of Hounsou's character whose allegiance can't be trusted." [THR]