Damon And Affleck's First Film For Warner Bros. Could Be About NY Yankees Sex Scandal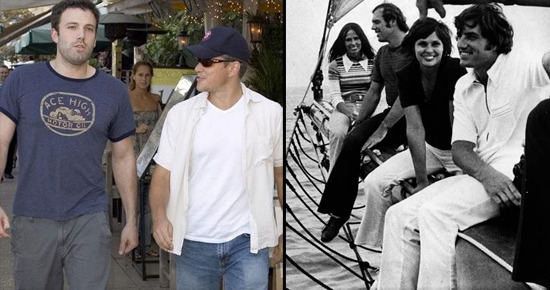 I wonder how Yankees fans might feel about a couple of die-hard Red Sox fans working on a film about two '70s NY Yankees players. And then I wonder how Boston would react to those same two hometown guys donning pinstripes. Ben Affleck is now attached to direct and possibly star in The Trade, a film about the scandal that broke open in 1973 when two Yankees players revealed that they'd swapped wives. Hey, wasn't this the 'sexually free' early '70s? Shouldn't whatever happens off the field between consenting adults be fair game?
Regardless, the story made news and now Affleck and Matt Damon, who have both been interested in the project for a while, might shrug into pinstripes to make it happen.
Deadline Hollywood reports that Affleck is looking at the role of Fritz Peterson (a hell of a pitcher) and Damon that of Mike Kekich, who in 1973 made waves when they revealed that they'd traded wives.
The two players were childhood friends, and swapped wives (who, I presume, were OK with the deal) in 1972. The story went public during spring training in 1973, prompting Yankees general manager Lee MacPhail to quip, "we may have to call off Family Day." Baseball fans weren't OK with the revelation, and Peterson was booed at games that followed. His performance suffered, and he was traded to Cleveland in 1974. The upside is that Peterson and Susanne Kekich are still together; the relationship between Mike Kekich and Marilyn Peterson didn't last.
The story has been at Warner Bros. for a long time, but is getting new heat based on Dave Mandel's script. The Seinfeld and Curb Your Enthusiasm writer has turned in a draft that Deadline says recalls Hal Ashby. Affleck reportedly wants to work on a rewrite with Mandel, with an eye towards making the film his follow-up to The Town. Given that Affleck and Damon are putting together a producing deal with WB now, the supposition is that this could be their first project together for the studio.