More Dinosaur Concept Art Spotted At Pixar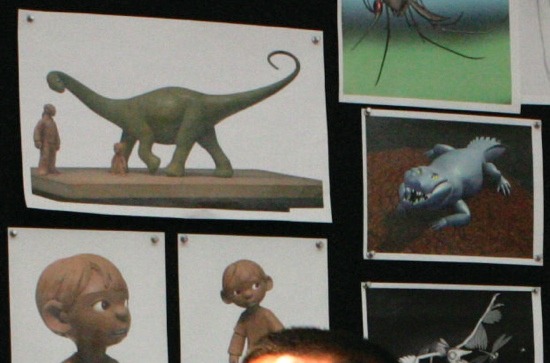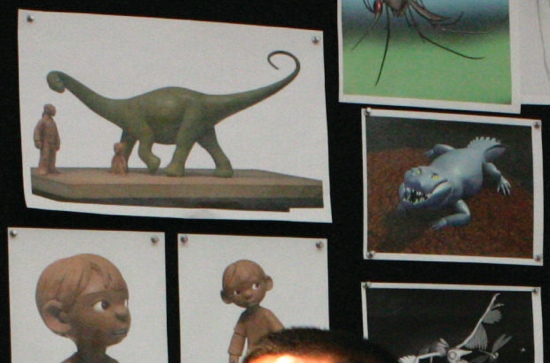 You might recall that last August, Pixar fans spotted some concept artwork featuring a boy and his dinosaur, on sculptor Greg Dykstra's wall in behind the scenes b-roll footage for Pete Docter's Up. Someone asked Pixar story supervisor Ronnie del Carmen about the artwork on Twitter, and he responded saying that he does know what the art is from "But not telling. Nothing to do with anything Toy Story, tell you that."
Someone also noticed some interesting postings made by Pixar animator and paleontology buff Austin Madison on his personal blog recounting a trip taken by a group of Pixar dino enthusiasts, including Dykstra, to the badlands of South Dakota. Anyone who follows Pixar's development process probably knows that the animation studio's artists usually take research field trips while developing new films. For Ratatouille, they took a trip to Paris to study the city and eat in some of the fine restaurants. For Up, they took a trip to South America to study the the strange wilderness of the region. And it certainly looks like Pixar is doing some research on dinosaurs, and the concept art of Dykstra's wall is definitely part of this upcoming project.
And now, PixarTalk has been sent a photo showing Up production designer Ricky Nierva standing in front of even more concept art from the project, showing the boy, a brontosaurus, a prehistoric alligator, a pterodactyl, and a mosquito. Check out the full photo (some of which can be seen above) after the jump.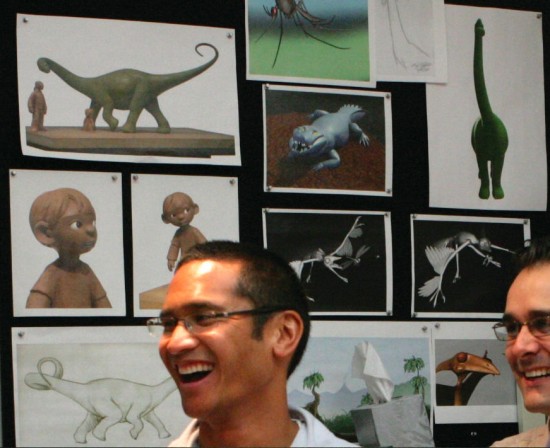 We are unsure if this art is part of an upcoming unannounced Pixar short of feature film. It certainly didn't look like anything that would fit into the few announced features that the animation studio is currently developing. If Dykstra is directing the project, it is likely a short (possibly attached to Toy Story 3?), considering he has not directed before. Pixar uses their short films as a training ground for potential future feature directors. For example, sound designer Gary Rydstrom directed the short Lifted (which played in front of Ratatouille), and was given the helm of the announced Pixar's 2012 feature film newt.
Anyone have any knowlege about this upcoming Pixar project? E-mail us!