Cool Stuff: Boba Fett Life-Size Bust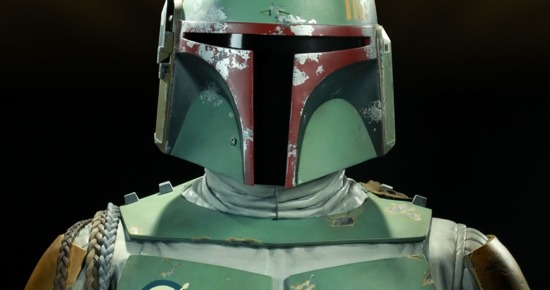 Sometimes we just love to feature big expensive geek stuff no one can afford. Today's Cool Stuff falls in that category. Sideshow Collectibles is celebrating the 30th Anniversary of Star Wars: The Empire Strikes Back with a Boba Fett Life-size Bust.
Created in conjunction with Spectral Motion effects house, the Boba Fett Life-size Bust has been meticulously sculpted to capture every detail of the Mandalorian's iconic helmet. Each piece is individually painted and hand-finished, each with its own unique quality and detail that is the trademark of a handcrafted Sideshow Collectibles product. Complete with real fabric cape, the Boba Fett Life-size Bust is sure to become the premier addition to any Star Wars display. Please note that no portion of this product is intended for wear or for use as a costume item.
The life-size bust weighs approximately 35 pounds and stands 30 inches high, 25 inches wide, and 10 inches deep. The bust will be available in the fourth quarter of 2010. Sideshow has put the bust up for preorder, selling for $799.99. I know that may seem expensive, but I'll say this much: I am lucky enough to own Sideshow's Iron Man life-size bust, and it is by far, the coolest geek collectible I own — everyone who comes over my apartment flocks to it. Check out more photos of the Life-Size Boba Fett Bust, after the jump.