Red Band Kick-Ass Movie Trailer #2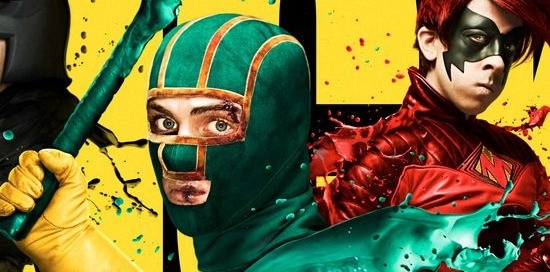 Lionsgate has released a new red band movie trailer for Matthew Vaughn's adaptation of the Mark Millar comic book series Kick-Ass. As you know, I've been very critical of the marketing for this film thus far. I've not only seen the preview footage at comic-con, read part of the comic, but I've seen the entire film — it is awesome.
The three reasons why people will love this movie is because of the politically incorrect humor, the vulgarity, and the intense bloody super-stylized action. The posters for Big Daddy, Red Mist, Hit-Girl and now the entire cast, display none of these characteristics. They attempt to appeal to the masses with a colorful bublegum look (see above).
But this new restricted red band movie trailer is Kick-Ass — this is the movie, and this is the way to advertise it. Too bad most trailers and television networks won't air this kind of trailer, because if you see this trailer, I'm pretty sure it's as good as pre-ordering a ticket for opening weekend. Watch the trailer after the jump, and please leave your thoughts in the comments below.
Official Plot Synopsis: The film tells the story of average teenager Dave Lizewski (Aaron Johnson), a comic-book fanboy who decides to take his obsession as inspiration to become a real-life superhero. As any good superhero would, he chooses a new name — Kick-Ass — assembles a suit and mask to wear, and gets to work fighting crime. There's only one problem standing in his way: Kick-Ass has absolutely no superpowers. His life is forever changed as he inspires a subculture of copy cats, is hunted by assorted violent and unpleasant characters, and meets up with a pair of crazed vigilantes, including an 11-year-old sword-wielding dynamo, Hit Girl (Chloë Moretz) and her father, Big Daddy (Nicolas Cage).
Watch the trailer in High Definition on MySpace. KICK-ASS is in theaters on April 16, 2010.